PIA's Historic Flight: Dubai to Skardu on Independence Day
Skardu's First International Flight from Dubai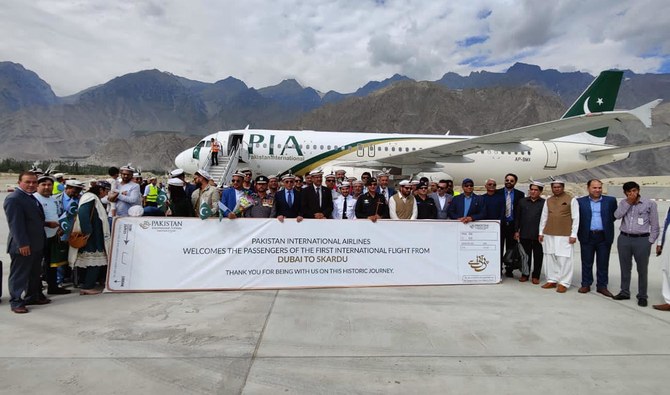 Skardu, a stunning place in Gilgit-Baltistan, is making history! Pakistan International Airlines (PIA) has achieved something amazing on Pakistan's 76th Independence Day. They flew the first-ever international flight to Skardu from Dubai on August 14, 2023.
Why This is Special:
The Chief Secretary of Gilgit-Baltistan, Mohyuddin Ahmed Wani, announced that Skardu would welcome its first international flight on August 14. And it really happened! This is a big deal because it brings Skardu closer to the world.
This first flight is just the beginning. PIA is going to start flying between Dubai and Skardu every week. They will start from Dubai to Skardu on August 19, and from Skardu to Dubai on August 22. This means people can easily travel between these places.
More About Skardu Airport:
Skardu Airport is important for this. It's the only airport in the northern part of Pakistan that can handle bigger airplanes. This is great because the runways at Gilgit and Chitral airports are shorter.
Before this, Skardu Airport was recognized as an 'international' facility by a former Prime Minister, Imran Khan. But there was a problem – there was no special place to refuel the international flights.
Now, things are changing. On August 11, they opened a special place for refueling international planes at the airport. This is a big step towards making the airport better for international flights.
Good for Tourism:
A lot of tourists are visiting Skardu lately. And now, with more flights, it's getting even better. Twelve flights on big airplanes are connecting Skardu with big cities in Pakistan. This is making Skardu a popular place for tourists.
As the first international flight lands in Skardu, Pakistan is celebrating its 76th Independence Day. This is not just a step for flying but also a step for progress and unity. It shows that Pakistan is moving forward and has a bright future ahead.