Pakistan's CONNEX 2023: Essential HR Sessions for Global Students!
CONNEX 2023: Essential HR Sessions for International Students!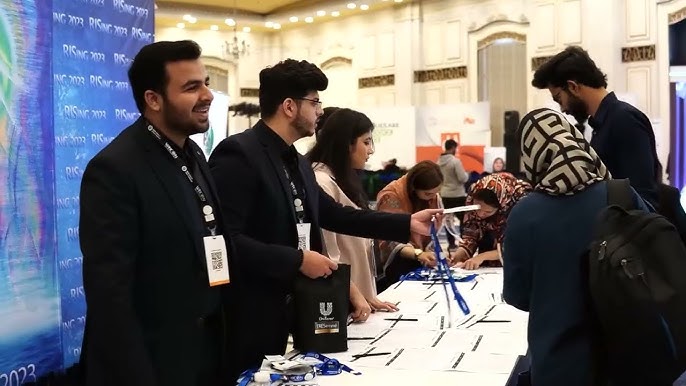 The Pakistan Society for Training and Development (PSTD) is set to unveil an engaging and informative event for international students, the HR Conference and Exhibition (CONNEX) 2023. Aimed at fostering a deeper understanding of HR trends and solutions, this conference promises to be a transformative experience for HR enthusiasts. Taking place in three major cities—Islamabad, Lahore, and Karachi—CONNEX will provide a unique platform for international students to explore the intersection of HR, technology, and people.
Agenda Highlights: This year's theme, "Tech-Tuned Hearts," encapsulates the heart of the conference's mission: to bridge the gap between HR, People, and Technology. Let's take a sneak peek at five key sessions that international students won't want to miss:
Driving Business Transformation through People, Culture, and Technology: Waqar Malik, the Managing Director & CEO of Fauji Foundation, will share a compelling success story. He'll reveal how the company achieved a remarkable turnaround in profitability, attributing HR's pivotal role in catalyzing this transformation.
Rethinking Employee Experience: A Hackathon-Style Workshop: Drs. Asad Mian and Mahreen Sulaiman, experts from AKUH's Critical Creative Innovative Thinking Forum, will lead an interactive workshop. International students will be guided through Stanford's human-centered design approach to reimagine and enhance the employee experience.
Empowering HR with People Analytics: Farrukh Rasheed, Chief People Officer of Lucky Core Industries Ltd., will provide actionable insights. Attendees will gain a practical roadmap and real-world case studies, empowering HR teams to embrace data analytics and drive success.
Preparing for the Digital Age: Insights from Inside the Boardroom: In this dynamic panel discussion, a simulated boardroom will host a CEO, CHRO, CFO, and CTO. Together, they will delve into strategies to navigate the digital age, emphasizing HR's collaborative role in organizational transformation.
AI-Enabled HR: Unveiling the Potential: Kamran Meer, a seasoned expert with experience in Silicon Valley and cybersecurity, will demystify AI. International students will participate in an interactive session to explore how AI can enhance HR practices and elevate people-related functions.
Diverse HR Topics: Beyond these focal points, CONNEX 2023 will explore a diverse range of HR topics. These encompass culture, leadership, employee value proposition, talent retention, emerging workforce models, and evolving expectations in today's dynamic landscape.
Registration and Contact Information: International students are invited to register for CONNEX 2023 in Islamabad, Lahore, or Karachi. For detailed information and registration, visit the official website: https://pstd.com.pk/connex-2023/
About PSTD: With an impressive 57-year legacy, the Pakistan Society for Training and Development (PSTD) stands as a premier training and development institution in the country. As a not-for-profit and non-government organization, PSTD is led by a dedicated Board of Governors. Their mission is to enrich Pakistan's professional landscape through conferences, training, coaching, and innovative digital learning solutions.
Conclusion: CONNEX 2023 presents a golden opportunity for international students to dive into the realms of HR, technology, and people-centric strategies. Through an array of interactive sessions, workshops, and discussions, attendees will gain valuable insights that can shape their understanding of modern HR practices. With a strong emphasis on technology-driven transformations, the conference promises to be an enriching experience for students aspiring to excel in the field of HR.