Naimal Khawar Shines in Light Blue Traditional Outfit by Rida Chattha
Stunning Light Blue Attire: Naimal Khawar's Graceful Fashion Choice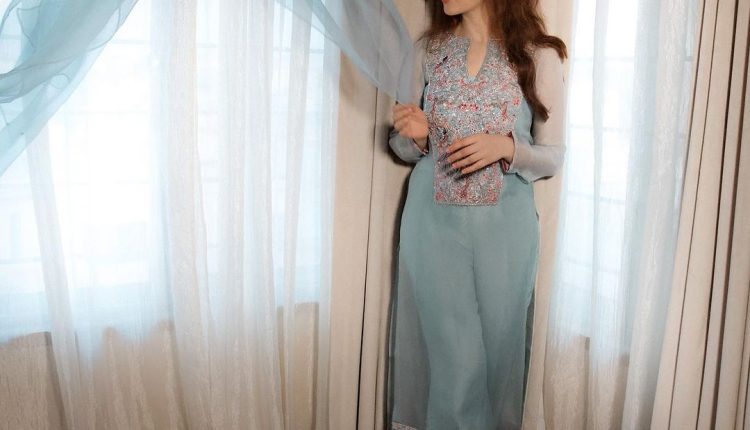 There's a famous person in Pakistani showbiz named Naimal Khawar. She's known for being graceful, talented, and charming. She's really good at acting and also has a great sense of fashion. She can wear traditional clothes and still look really nice, which is cool.
Naimal Khawar wore a light blue outfit by Rida Chattha for a special occasion. People who love fashion are talking about it a lot.
Naimal Khawar is good at wearing traditional clothes and making them look nice. This time, she wore a light blue dress that everyone noticed. The soft blue color was different from the bright colors people usually wear for special events.
The dress was a mix of old and new styles. The light blue color made it look calm and nice. The dress had pretty designs and patterns made with thread that made it look fancy.
Naimal Khawar knows how to pick the right things to wear and how to make them look good. She wore nice earrings that looked great on her face. Her hair was wavy and looked relaxed. Her makeup was light, so the dress was the main thing people saw.
Naimal Khawar is good at showing her personality through the clothes she wears. She's really good at making the clothes her own.
Some people online are talking about Naimal Khawar's nose. They noticed that it looks different. They think she might have had some changes done to her nose and lips. Some fans didn't like it and said mean things. They thought she was pretty before and didn't need changes. People have different opinions about her new look.