Hurricane "Hilary" Raises Concerns of Dangerous Flooding in California, USA
Hurricane "Hilary" Threatens California: Arrival of the Storm Raises Flood Concerns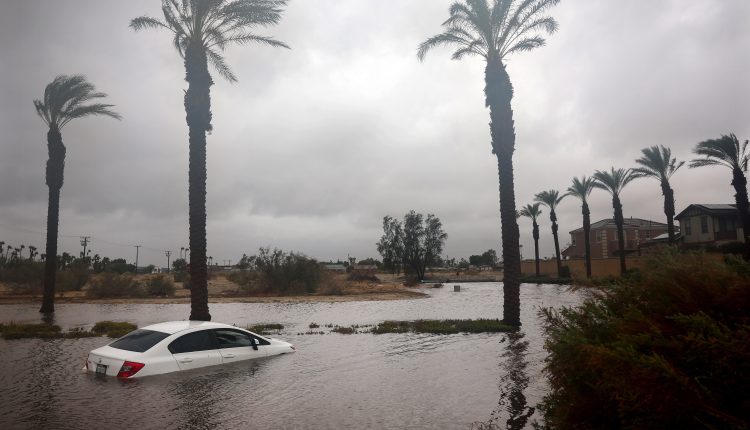 California Governor Gavin Newsom Declares State of Emergency for Most Southern Regions: The arrival of the oceanic hurricane "Hilary" from Mexico has led to heavy rainfall in California on Sunday, prompting warnings of potentially hazardous flooding in generally arid areas of the southwestern United States.
According to a report by news agency 'AFP,' prior to this, a magnitude 5.1 earthquake had struck near Ojai in Southern California, though there were no immediate reports of significant damage or casualties.
The United States National Hurricane Center (NHC) reported that as of Sunday afternoon, Hurricane Hilary's center was over California with sustained winds of 95 kilometers per hour, and the storm was moving forward at a rapid speed of 37 kilometers per hour.
Intense rain has caused several roads in the state to go underwater — Image: AFP The NHC had previously cautioned about possible "historical" rains extending until early Monday, which could result in destructive flooding in parts of the state.
A local TV channel, ABC, shared videos of severe flooding in some areas of Palm Springs outside Los Angeles, and the National Park Service announced the closure of Death Valley National Park due to the "dangerous flooding situation."
Los Angeles Mayor Keiren Bass warned that "this weather situation is extraordinary."
Authorities ordered beach closures, while people rushed to stores to stock up on essential supplies, and in some areas, heavy flooding was observed. Additionally, a hurricane warning was issued.
Earlier, Hurricane Hilary had reached Category 4 status, but when it veered toward the border city of Tijuana, Mexico, it was downgraded to a tropical storm.
Despite its weakened state, Federal Emergency Management Agency (FEMA) Administrator Deanne Criswell emphasized the seriousness of the threat and urged people to take it seriously.
Speaking to CNN, she stated, "Hurricane Hilary is potentially a catastrophic storm for Southern California."
California Governor Gavin Newsom declared a state of emergency for most southern regions.
A statement from the governor's office mentioned that officials have established five shelters for storm evacuees and have deployed over 7,000 personnel, including several hundred National Guard troops and water rescue teams.
In San Diego, people filled sandbags to prepare for possible flooding, as the Coast Guard advised people to stay away from the ocean.
A Highly Hazardous Hurricane: Mexico's Civil Protection Agency reported a fatality when a person was swept away by a flooded river, while mudslides and road closures were also warned in Baja California.
The Mexican military has opened 35 shelters accommodating approximately 1,725 affected individuals.
The NHC warned of intense rain and potential flooding in some areas of Oregon and Idaho, as well as the possibility of flooding in California's southeastern, southwestern Arizona, southern Nevada, and southwestern Utah.
Nancy Ward, director of California's Office of Emergency Services, stated in a press conference that Hurricane Hilary could be among the worst storms to hit the state in more than a decade.
In a press conference, she stressed, "Don't make any mistakes. This is a very, very dangerous and severe storm."
Mexico's government has stationed nearly 19,000 troops in the worst-affected states, and the Federal Electricity Utility has dispatched 800 employees and sent hundreds of vehicles to deal with any outages.
While Mexico often faces off with oceanic hurricanes from both the Pacific and Atlantic coasts each year, California is only rarely struck with hurricanes, and experiencing one with such severity is unusual.
Scientists warn that as the world heats up due to climate change, hurricanes are growing stronger.