Punjab's Exciting News: Nurses Can Work Abroad Easily
Nurses Can Work Abroad with Ease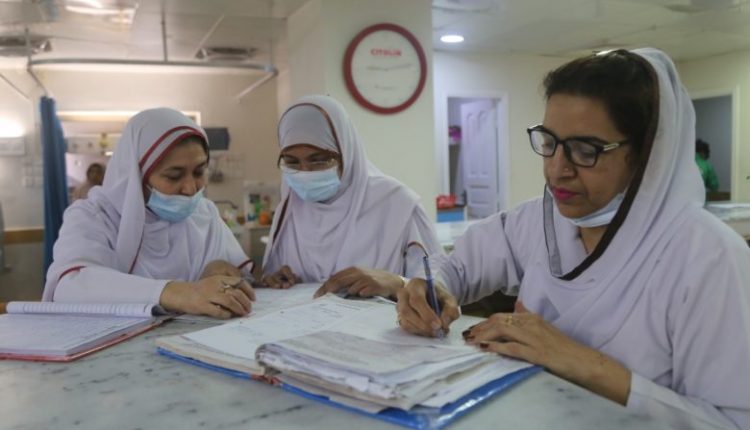 Pakistan, Punjab: In a significant stride towards global opportunities for nurses, Punjab's Minister for Primary and Secondary Healthcare, Dr. Jamal Nasir, shared uplifting news today. The Punjab government, guided by Chief Minister Mohsin Naqvi, has enacted crucial measures to facilitate overseas employment for nursing professionals.
Nurturing Global Dreams
The tireless efforts of the Primary and Secondary Healthcare department have yielded fruit, as it has worked diligently to eliminate previous hindrances that stood in the way of nurses pursuing careers abroad.
According to Dr. Jamal Nasir, the decision to prioritize the processing of nurses' applications for ex-Pakistan leave was promptly made in line with Chief Minister Mohsin Naqvi's directive. This strategic move not only opens doors for experienced nurses to work internationally but also contributes to the local healthcare system upon their return.
A Win-Win Proposition
Beyond personal growth, this initiative holds a broader impact. The foreign remittances sent back by these nurses during their overseas employment journey will significantly contribute to Pakistan's national interests, providing much-needed foreign exchange reserves.
To ensure a seamless process, the Primary and Secondary Healthcare Department has meticulously outlined guidelines tailored to assist nurses, from in-charge nurses to head nurses or equivalent designations ranging from BS-16 to BS-19. These guidelines, however, apply solely to regular nurses and do not extend to those on contract or ad hoc bases. Additionally, applicants must possess a valid employment offer letter from a foreign health facility to qualify for this promising opportunity.
Navigating the Path
Minister Jamal Nasir underscores the importance of attaching the obtained visa with the leave application to expedite the process. In cases where the approved leave title from the District Accounts Office is pending, the application will still proceed without delay, and the leave title can be furnished subsequently.
To further streamline the journey, applicants can directly submit their applications at the HISDU facilitation center. The department is committed to issuing decisions within four working days from submission, eliminating the need for additional forwarding from the immediate institution head where the nurse serves.
Dr. Jamal Nasir's proactive approach ensures that pending applications receive daily monitoring by the concerned deputy secretary. The substitution of a nurse for a specific health facility should not impede the approval of the leave application.
When it comes to applicants governed by the PEEDA ACT, 2006, their cases will be meticulously evaluated on an individual basis, taking into account the gravity of charges and in adherence to established guidelines.
In Summary
Punjab's latest move is not just a leap for nurses but a significant stride for the healthcare sector and the nation at large. The doors to international experiences are flung open, with the province fostering an environment where dreams are nurtured and horizons expanded.