Case Registered for Lion's Appearance on Karachi Street; Owners Presented in Court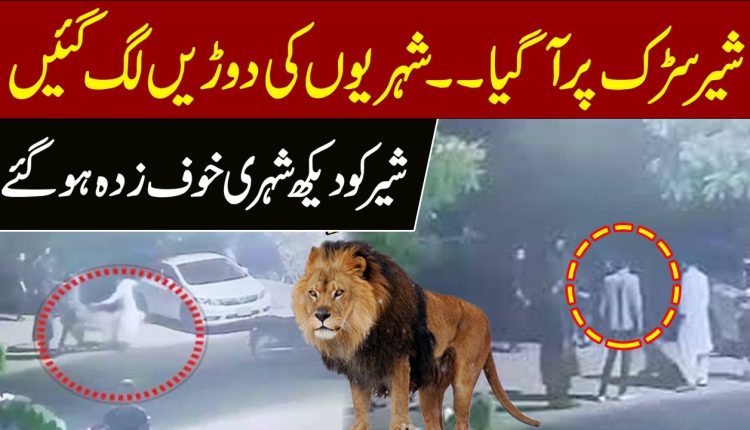 The Wildlife Department has registered a case and presented five individuals in court following an incident where a lion was seen on the streets of Karachi, Pakistan.
According to Chief Conservator of Wildlife, Javed Mahar, the individuals taken into custody could not present any documents for keeping the dangerous animal. The seized lion and a tortoise have been transferred to the Karachi Zoo.
A lion was spotted roaming on the main road, Shahrah-e-Faisal, in Karachi the previous day. Citizens informed the police and the Wildlife Department upon seeing the dangerous animal on the street.
After several hours of effort, the administration managed to control the lion, which had also attacked a citizen during this time. However, the citizen remained safe.
The Wildlife Department took the lion into custody and arrested five individuals. A tortoise was also recovered from the vehicle of the arrested individuals.
On Wednesday morning, the Sindh Wildlife Department presented the lion's owner and five individuals in the District and Sessions Court South. The accused included Shams-ul-Haq, Yafat, Murtaza, Nasir, and Obaid.
The lion's owner, Shams-ul-Haq, speaking to the media outside the courtroom, said that 'false rumors are circulating, I do not have any farmhouse on the superhighway.'
He stated that he is a resident of the Iqbal Market area in Garden. 'This lion has been with us for several months. My brother received this lion as a gift, which was kept at home.'
He further explained that 'yesterday, we were taking the lion to the animal doctor when, near Aisha Bawany College on Shahrah-e-Faisal, the lion broke the cage in the car and came out.'
The local administration managed to control the lion after several hours of effort. Photo: Screen Grab In response to a question about keeping a dangerous animal at home, he said, 'we did not know about the license for carnivorous animals; I had kept this lion as a hobby at home.'
The head of the Sindh Wildlife Department, Javed Mahar, told Urdu News that 'we have registered a case against the lion's owner and facilitators and presented them in court. The lion's owner, Shams, does not have any license.'
He said that the lion and the tortoise have been transferred to the Karachi Zoo, where they are being taken care of properly.