Karachi Bans Noisy Toy Horns Before Independence Day
Reducing Noise Pollution for Independence Day Celebrations in Karachi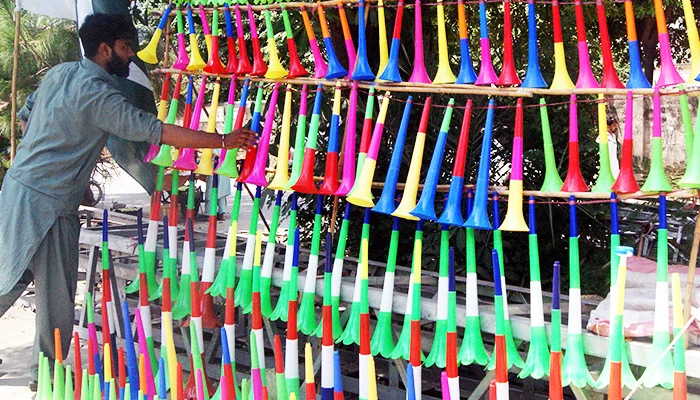 Karachi, Pakistan: In a bid to address concerns about noise pollution during the upcoming Independence Day celebrations, a judicial order has been issued to clamp down on the sale and usage of vuvuzelas, the popular toy horns. The decision comes as part of efforts to curb the widespread practice of using these noisy instruments during festive occasions.
As the nation approaches Independence Day on August 14th, the streets are often lined with vendors selling vuvuzelas alongside various patriotic items. However, in response to the growing noise concerns, a judge has instructed the police to take decisive action against the sale and usage of these noise-emitting toys.
The police have been directed to enforce stringent measures under a specific section of the Criminal Procedure Code, utilizing legal provisions from the Pakistan Penal Code. This move is aimed at deterring both vendors and individuals from contributing to excessive noise levels.
During the Independence Day celebrations, it is customary to witness vehicles adorned with green decorations and the national flag. Homes, markets, and streets are also embellished with flags and lights as a gesture of patriotism and love for the country.
As the 76th anniversary of Pakistan's independence approaches, this year's celebrations take on added significance as the nation commemorates its journey towards sovereignty.