USAID HEC Scholarships for Flood Affected People 2024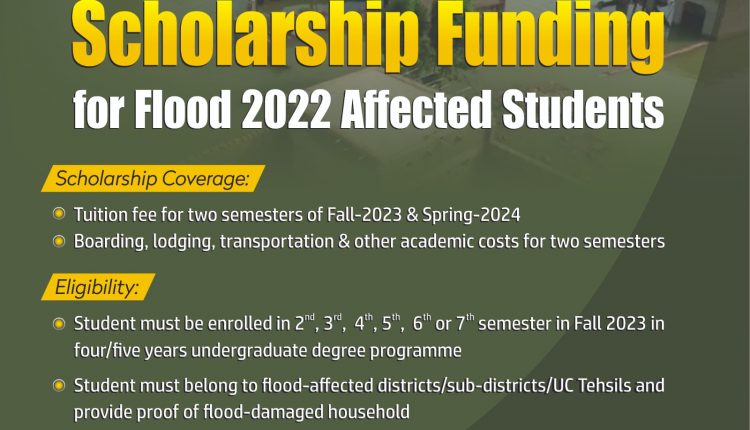 SCHOLARSHIP OPPORTUNITIES FOR STUDENTS IMPACTED BY RECENT FLOODS
In light of the recent floods that wreaked havoc in Pakistan, a fresh scholarship initiative has been launched to support the educational aspirations of the affected.
ISLAMABAD: The catastrophic floods that recently engulfed parts of Pakistan have left many infrastructures in ruins and disrupted countless lives. Among those most affected are university students from the flood-stricken districts, many of whom are grappling with the possibility of halting their academic pursuits due to financial hardships.
Stepping up to address this challenge is the USAID-funded Merit and Needs-based Scholarship Program. With a history of supporting students from economically challenged backgrounds since 2004, the program is now extending its reach to offer scholarships covering two semesters for those impacted by the floods. This commendable effort is being undertaken in collaboration with thirty esteemed partner universities across Pakistan.
Who Can Apply?
Students currently in their 2nd to 7th semester as of Fall 2023 in a four/five-year undergraduate program.
All academic disciplines and subjects are welcome.
Applicants should be from areas identified as flood-affected by official entities such as the Government of Pakistan, PDMA, or District Administration.
Valid proof showcasing flood-induced damages to property or livelihood is mandatory. Beware: Submission of counterfeit images or those sourced from the internet will result in disqualification.
A selection process involving interviews by the University's Institutional Scholarship Award Committee will determine the final recipients.
In a move promoting gender balance, half of the scholarships are earmarked for female students.
What's On Offer?
Waiver of tuition fees for two consecutive semesters: Fall 2023 and Spring 2024.
A comprehensive stipend encompassing Boarding & Lodging, Transportation, and other academic-related expenses for the duration of the scholarship.
How to Secure Your Spot:
Applications are to be made via the HEC Online Application System at https://usaidmnbsp-fas.hec.gov.pk/.
Post online submission, students must provide a printed copy of their application along with relevant documents to their university's student financial aid office.
Only complete applications will be considered.
Points to Ponder:
Merit remains the cornerstone for scholarship allocation. However, any discrepancies or false information provided can lead to the HEC revoking the scholarship upon physical verification.
Those enrolled in self-financed, evening, two-year bachelor's, associate, or lateral degree programs are not eligible.
Students already benefiting from other scholarships or grants cannot apply.
The scholarship duration is strictly limited to two semesters.
For further details and application submission, please visit https://usaidmnbsp-fas.hec.gov.pk/.
Act Now: The window for online applications closes on 16th August 2023. Prospective candidates are urged to apply promptly.
---
In these trying times, such initiatives underscore the unwavering commitment of educational bodies in Pakistan to ensure that adversities like natural disasters don't derail the academic dreams of the nation's youth.