ABHI and Service Industries Limited Introduce AbhiSalary for Employee Empowerment
ABHI and Service Industries Unite to Transform Employee Financial Well-Being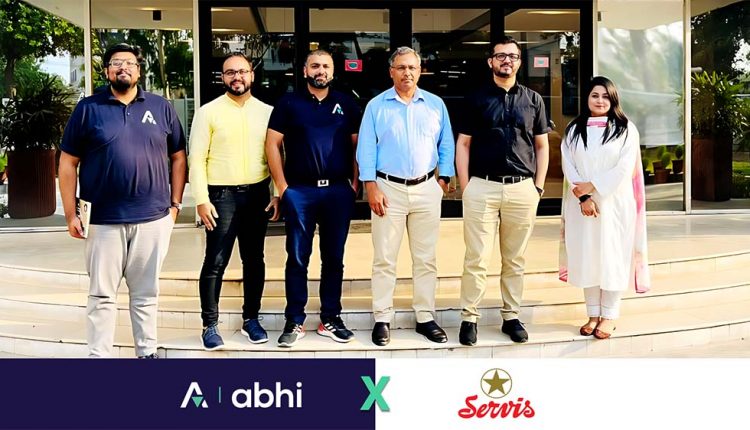 Karachi, 8th August 2023 – In a groundbreaking move, ABHI, a leading fintech company, has teamed up with Service Industries Limited, a renowned footwear manufacturing and marketing company boasting over five decades of experience. This strategic alliance is set to revolutionize the financial well-being of Service Industries' employees, especially for international students working with the company. Through this partnership, ABHI introduces AbhiSalary – Earned Wage Access, a game-changing solution that transforms how employees access their rightfully earned yet unpaid salary.
The heart of this collaboration lies in ABHI's ingenious approach to empower Service Industries Limited employees. By granting them real-time access to a portion of their earned wages, ABHI bridges the gap between traditional paydays, providing a newfound sense of financial control and flexibility. This novel solution empowers international student employees to fulfill their financial commitments promptly, ultimately boosting their overall financial wellness.
Mr. Mohammed Zaidi, Chief Customer Officer of ABHI, expressed his enthusiasm, stating, "We are thrilled to partner with Service Industries in offering AbhiSalary – Earned Wage Access to their esteemed employees. The weight of financial stress can significantly hinder an individual's joy and productivity. Through this collaboration, our mission is to alleviate this stress and equip employees with the means to attain financial stability. Earned wage access is a potent tool that promises to create positive ripples in the lives of Service Industries' dedicated workforce."
Service Industries Limited has consistently placed a strong emphasis on the welfare of its employees. This partnership with ABHI serves as a reinforcement of that commitment. Mr. Khubaib Ahmed, Chief Human Resources Officer of Servis Industries Limited, conveyed his excitement, underscoring, "Our employees are the cornerstone of Service Industries Limited's accomplishments. Their financial well-being is a cornerstone of our priorities. By partnering with ABHI to provide earned wage access, we are taking a momentous stride towards enriching the lives of our employees, charting a course towards a financially secure future."
This collaboration between ABHI and Service Industries Limited serves as a resounding testament to the shared devotion to employee welfare and financial empowerment. By seamlessly integrating earned wage access into Service Industries' spectrum of employee benefits, this alliance aspires to effect a positive transformation in the financial narratives of the company's esteemed international student workforce. The stage is set for a brighter and more secure financial future for Service Industries Limited employees.
The partnership between ABHI and Service Industries Limited marks a turning point in employee financial well-being. Through AbhiSalary – Earned Wage Access, international student employees of Service Industries Limited can anticipate a more empowered, secure, and financially stable journey ahead.