Emirates and Shell's Historic SAF Deal at Dubai Airport
300,000 Gallons to Fuel Green Aviation Initiatives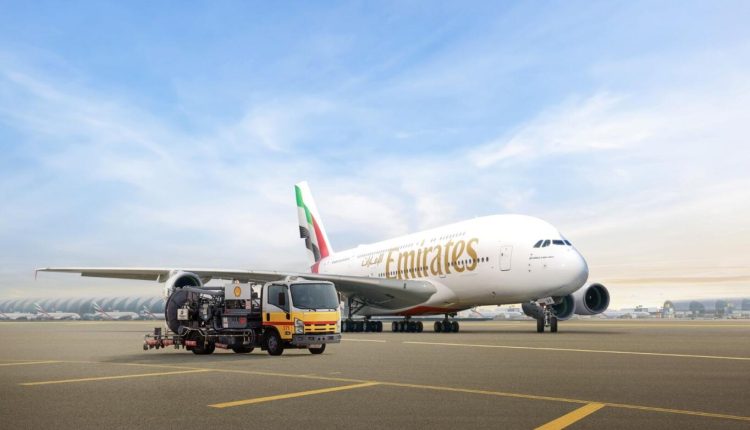 Dubai's Emirates airline has recently inked a groundbreaking deal with Shell Aviation to procure more than 300,000 gallons of blended sustainable aviation fuel (SAF). This move comes as the aviation industry intensifies its pursuit of environmentally friendly fuel options to address global climate challenges.
Set to kick off before the year's end, this significant supply is poised to contribute to emissions reduction. A noteworthy aspect of this collaboration is that it marks the maiden instance of SAF being supplied through the Dubai International (DXB) airport fuelling system. SAF, a secure and fully certified drop-in fuel compatible with existing aircraft fleets and airport infrastructure, can be blended with conventional jet fuel at a ratio of up to 50%. This blending results in aviation fuel with substantially lower lifecycle carbon emissions. When used in its neat form, SAF has the potential to reduce lifecycle emissions by up to 80% compared to conventional jet fuel.
Sir Tim Clark, the President of Emirates airline, expressed optimism that this collaboration would evolve to ensure a continuous future supply of SAF in the airline's hub. Currently, the UAE lacks production facilities for SAF. He emphasized the pivotal role of aviation in Dubai and the broader UAE economy, underscoring the airline's commitment to collaborating with like-minded organizations and government entities to explore viable solutions that introduce more SAF into the aviation fuel supply chain.
The collaboration builds on Emirates' prior demonstration flight in January 2023, where a Boeing 777-300ER operated with one of its engines powered by 100% sustainable aviation fuel. This initiative involved cooperation with partners such as GE Aerospace, Boeing, Honeywell, Neste, and Virent to procure and develop a blend of SAF closely mirroring the properties of conventional jet fuel.
Chu Yong-Yi, Vice President of Shell Corporate Travel, highlighted the historic nature of enabling SAF supply at DXB, viewing it as a crucial milestone and an exemplar of how various segments of the aviation value chain can contribute to advancing SAF. The hope is that this development acts as a catalyst for broader action on SAF adoption across the aviation industry in the UAE and the region, fostering progress on the collective journey towards net-zero emissions.
As part of the agreement, Emirates is committed to tracking SAF delivery and usage data through Avelia, a blockchain-powered SAF solution, further enhancing transparency and accountability in sustainable aviation practices.