InfraZamin Pakistan, Kashf Foundation, and Arif Habib Limited Introduce Pakistan's First 'AAA' Rated Rs. 2.5 Billion 'Gender Bond'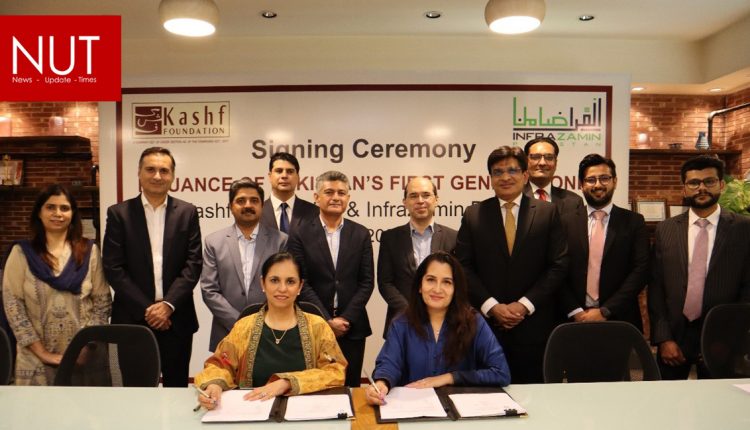 In a significant milestone for Pakistan's bond capital market, InfraZamin Pakistan, a licensed Non-Bank Financial Institution (NBFI) and credit guarantee provider, along with Kashf Foundation, a Section 42 company and licensed microfinance institution, have collaborated to launch the country's first-ever "Gender Bond." This bond, valued at Rs. 2.5 billion and carrying an 'AAA' credit rating, aims to attract institutional capital market investors.
The Gender Bond, a privately placed term finance certificate subsequently listed for trading, will utilize its proceeds to enhance Kashf Foundation's lending portfolio exclusively for women. The funds will be directed towards developing micro-infrastructure, including the construction of schools in rural areas, rehabilitation of flood-damaged homes, and the expansion of women-led micro-businesses.
It is worth noting that the Gender Bond fully adheres to the Guidelines of Gender Bond issuance set by the Securities and Exchange Commission of Pakistan (SECP), aligning with the UN Sustainable Development Goals and UN Women's principles for women empowerment. Arif Habib Limited has been appointed as the 'Arranger' for this bond issuance.
The three-year Gender Bond will raise Rs. 2.5 billion through an initial private placement, followed by an over-the-counter (OTC) listing, enabling a wide range of capital market participants to invest. The bond carries a 100% principal guarantee provided by InfraZamin, along with a partial guarantee for the interest installments.
PACRA has assigned a 'AAA' long-term credit rating and an 'A1+' rating to the bond, reflecting its strong creditworthiness. Moreover, the bond is attractively priced at 3-month KIBOR (Karachi Interbank Offered Rate) plus a spread of 1.50%. InfraZamin's guarantee is irrevocable and unconditional, assuring investors that the guarantee facility will cover all amounts in the event of any credit event.
The Gender Bond's primary objective is to allocate its proceeds through Kashf Foundation's microfinance lending portfolio, exclusively supporting approximately 30,000 women from low-income households to develop micro-infrastructure. Kashf Foundation has a commendable 25-year history of empowering women and women-led businesses through its microfinance platform, having served over 700,000 active women clients and disbursed over 6.6 million loans to women micro-entrepreneurs.
The infusion of bond proceeds is expected to bolster Kashf Foundation's balance sheet and provide much-needed commercial capital to underprivileged women, enabling them to pursue entrepreneurial aspirations, rehabilitate homes, and expand schools and small businesses. This lending initiative will contribute to women's financial independence, develop their financial capacity, and foster economic growth and productivity in Pakistan.
This pioneering Gender Bond not only promotes inclusivity and diversity but also contributes to the development of the bond capital market in the country. InfraZamin's 100% principal guarantee and partial interest guarantee offer complete comfort and protection to investors against default and credit risk, playing a crucial role in attracting private institutional investor capital to strengthen Kashf Foundation's balance sheet.
Recent amendments by the SECP have facilitated risk mitigation by providing an 85% exemption to NBFCs (Non-Bank Financial Companies) for exposures against InfraZamin's guarantees, similar to the exemptions granted by the State Bank of Pakistan to commercial banks. These amendments aim to provide support to mutual funds and other areas within the capital market.
Maheen Rahman, CEO of InfraZamin Pakistan, expressed excitement about being part of Pakistan's first Gender Bond transaction, emphasizing its importance in raising commercial capital directed towards female empowerment and financial inclusion. She highlighted that this transaction signifies a significant leap forward for a country that ranks low on the Gender Equity Index, while also showcasing the power of guarantees and credit enhancement facilities in attracting private institutional investment for private sector-led projects.
Roshaneh Zafar, Managing Director of Kashf Foundation, highlighted the collaboration's significance in creating financial opportunities for women entrepreneurs and fueling sustainable economic growth. She noted that expanding access to affordable finance for more women-led businesses would generate employment opportunities and contribute to Pakistan's economic development. Zafar expressed hope that this initiative would inspire other organizations and stakeholders to prioritize the economic potential and aspirations of women. The Gender Bond provides investors in the microfinance sector, particularly nonprofit microfinance institutions, with new avenues for investment to support the agenda of financial inclusion in the country.
Shahid Ali Habib, CEO of Arif Habib Limited, expressed delight at launching the first 'AAA' Rated Gender Bond in Pakistan, emphasizing its role in promoting the economic empowerment and financial inclusion of women, which are crucial for the country's sustainable development. He praised InfraZamin Pakistan for leading the way in facilitating private sector infrastructure projects and ensuring complete risk protection for bondholders of Kashf Foundation.
InfraZamin Pakistan, Kashf Foundation, and Arif Habib Limited extend their gratitude to the Securities and Exchange Commission of Pakistan (SECP) for its support and facilitation, enabling the launch of this groundbreaking product in Pakistan's bond markets.
The Gender Bond has already entered the marketing phase and aims to complete subscription by July, subject to the necessary approvals from the SECP. This groundbreaking initiative is set to bring about positive change by addressing gender disparities, fostering financial inclusion, and creating opportunities for women entrepreneurs in Pakistan.