LMKT and INSEAD Collaborate to Launch XSeed Incubation Program at NIC Karachi
LMKT and INSEAD Launch XSeed Incubation Program at NIC Karachi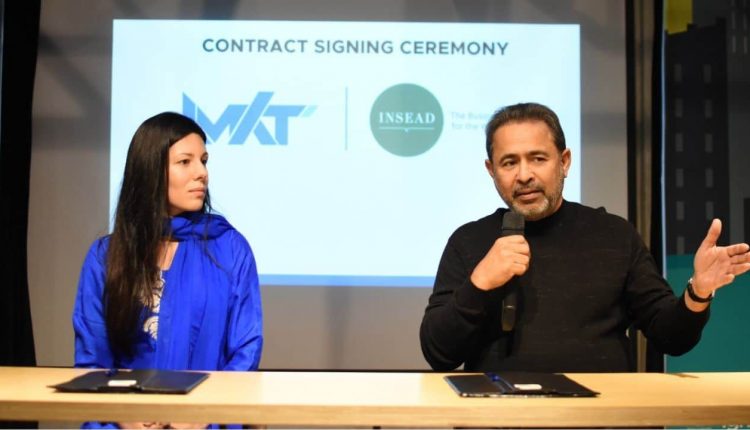 In a transformative move, LMKT, a prominent technology company in Pakistan, has joined forces with INSEAD, a renowned global business school, to introduce the XSeed Incubation Program in collaboration with NIC Karachi, Pakistan's largest tech incubator. This strategic partnership aims to empower aspiring entrepreneurs, providing them with the platform and resources needed to turn their innovative ideas into successful businesses.
XSeed Incubation Program: A 12-Month Journey to Success
The XSeed Incubation Program is a comprehensive 12-month initiative designed to nurture early-stage ventures and facilitate the growth of startups. Drawing upon successful models from global markets, the program incorporates rigorous frameworks developed by INSEAD's experts in entrepreneurship and strategy. This collaboration ensures that Pakistani entrepreneurs receive tailored support, enhancing their ability to thrive within the ever-evolving business landscape.
NIC Karachi: Fueling Entrepreneurial Dreams
NIC Karachi, powered by Ignite and operated by LMKT, stands as a dedicated incubation center and startup accelerator that has played a pivotal role in empowering innovative entrepreneurs. With a remarkable track record of incubating over 299 startups, creating more than 99,000 jobs, and securing Rs. 8.1 Billion in investments, NIC Karachi continues to drive Pakistan's entrepreneurship scene forward.
Leadership Voices:
Atif R. Khan, CEO of LMKT, expressed his excitement about the partnership, stating, "Our collaboration with INSEAD researchers for the XSeed Incubation Program underscores our dedication to nurturing Pakistan's startup ecosystem. By merging LMKT's expertise in scalable IT solutions with INSEAD's global insights, we aim to offer aspiring entrepreneurs a transformative platform to realize their business dreams."
Dr. Chiara Spina, Assistant Professor of Entrepreneurship and Family Enterprise at INSEAD, highlighted the partnership's significance, saying, "The launch of the XSeed Incubation Program with LMKT and NIC Karachi reflects INSEAD's commitment to driving change through entrepreneurship and supporting the growth of innovative ventures."
Faizan Laghari, Project Director of NIC Karachi, emphasized the partnership's importance, stating, "Drawing on the expertise and global network of INSEAD researchers, we are confident that the XSeed Incubation Program will offer invaluable resources and support to our startup community, enabling them to flourish and leave a lasting mark on Pakistan's entrepreneurial landscape."
Fostering Entrepreneurship for a Prosperous Future
Sana Shah, Program Manager of NIC Karachi, shared her enthusiasm about the collaboration, stating, "The launch of the XSeed Incubation Program in collaboration with INSEAD researchers opens new horizons of support and growth for aspiring entrepreneurs. We are committed to creating an enabling ecosystem for their success, nurturing their endeavors within a dynamic and supportive environment."
This collaboration between LMKT and INSEAD signifies a bold step forward in empowering Pakistani entrepreneurs, fostering innovation, and contributing to the nation's economic growth.