PTCL Group Partners with ConnectHear for Sign Language Training: Fostering Inclusivity
Empowering Customer Service with Sign Language Proficiency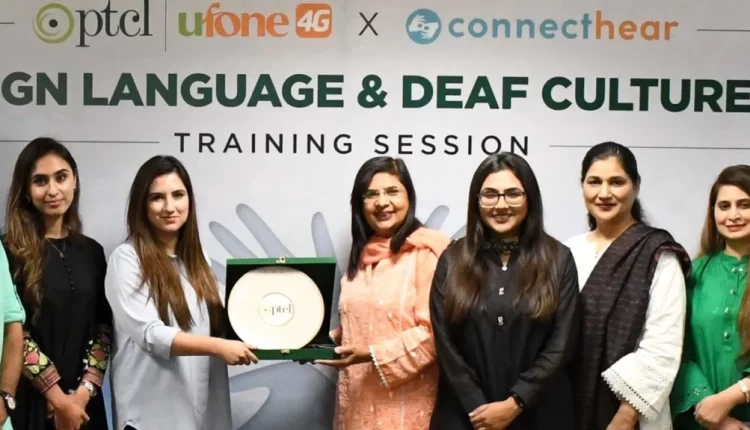 Pakistan's largest telecommunications operator, PTCL Group (PTCL & Ufone 4G), has embarked on a collaborative effort with ConnectHear, a socially-driven enterprise dedicated to empowering individuals with hearing impairment. Their joint mission involved organizing a specialized sign language training session for the representatives of PTCL Group's Customer Service Centers (Joint Shops) in the North region. This initiative, thoughtfully aligned with the International Day of Sign Languages, carries a noble objective – to foster inclusivity and augment the accessibility of PTCL and Ufone 4G services, with a particular focus on enhancing the experience for customers with hearing impairment.
The training session, expertly conducted by Ms. Azima Dhanjee, CEO/Co-founder of ConnectHear, was marked by its engaging and interactive nature. It encompassed a diverse array of activities and real-life case studies, all meticulously designed to sensitize PTCL Group's customer service staff to the unique requirements and nuances of Deaf customers.
This initiative, a pioneering endeavor within Pakistan's telecom industry, resonates deeply with PTCL Group's unwavering commitment to championing inclusivity for differently-abled individuals. Inclusivity has long stood as a central pillar of the Group's Corporate Social Responsibility (CSR) initiatives. By providing comprehensive sign language training to its cadre of customer service representatives, PTCL Group underscores its dedication to cultivating a more accessible and equitable environment for all of its valued customers.
During the session, Amir Pasha, Group Director of Public Relations, Media, CSR & Corporate Communications at PTCL & Ufone 4G, emphasized the pivotal role inclusivity plays in driving socioeconomic change. He stated, "Inclusivity is a major driver of socioeconomic change, therefore it is the foundation of PTCL Group's CSR program. We believe every customer should have equal access to our services, regardless of their abilities. I am positive that the Deaf sensitization training for our customer-facing teams will improve customer experience."
Azima Dhanjee, CEO/Co-founder of ConnectHear, lauded PTCL Group's significant contributions to Deaf sensitization within Pakistan's telecom industry. She remarked, "It is heartening to see PTCL Group playing a significant role and actively participating in Deaf sensitization in Pakistan's telecom industry. Our partnership, particularly this initiative, sets a commendable example for other organizations to follow suit to help bring about a more diverse, inclusive, and compassionate society in the country."
PTCL Group's pioneering initiative serves as a guiding light for both public and private organizations, inspiring them to embrace diversity and prioritize inclusion within their organizational frameworks.