Government to Reconstitute Board of Privatization Commission: Key Members Removed
Government Approves Overhaul of Privatization Commission's Board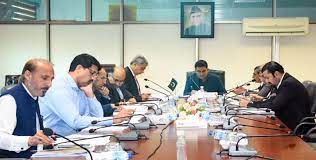 In a recent development, the federal cabinet has granted its approval for the removal of certain members from the Board of the Privatization Commission, marking a significant step towards restructuring the Commission.
The approval was granted through circulation, and as a result, the federal government will now proceed to establish a new Board for the Commission, aiming to streamline its operations and enhance its effectiveness.
The members who have been removed from the Board include Zafar Iqbal, Engr. Memon Abdul Jabbar, Zafar Iqbal Sobani, Arsallah Khan Hoti, Khurram Schehzad, Ashfaq Yousuf Tola, Yawar Irfan Khan, and Etrat Hussain Rizvi.
It is essential to note that these members had been serving on the Board during the tenures of the incumbent government, the previous Pakistan Tehreek-e-Insaf (PTI) government, as well as the Pakistan Muslim League Nawaz (PMLN) government. Their appointments to the Board were made in 2013, 2014, and 2015.
In 2013, Zafar Iqbal Sobani and Arsallah Khan Hoti were appointed to the Board. In 2014, Zafar Iqbal and Khurram Schehzad were appointed, while Engr. Memon Abdul Jabbar, Ashfaq Yousuf Tola, Yawar Irfan Khan, and Etrat Hussain Rizvi joined the Board in 2015.
According to the Privatization Commission Ordinance, 2000, the overall management and administration of the Commission's affairs are vested in the Board. The Board consists of the Chairman, the Secretary, and six other members, with the option of having a higher number as determined by the Federal Government.
Per the Ordinance, the Chairman of the Commission concurrently serves as the Chairman of the Board, while the Secretary of the Commission holds the position of the Secretary of the Board.
The reconstitution of the Board reflects the government's commitment to ensuring effective governance and decision-making processes within the Privatization Commission. It is expected that the new Board, once constituted, will bring fresh perspectives and expertise to the Commission's activities, facilitating its role in driving privatization initiatives and promoting economic growth in the country.
As the government proceeds with the reconstitution, it aims to strengthen the Commission's capabilities in managing and executing privatization endeavors, furthering its efforts to achieve the national objectives of economic reform and development.