Pakistan Struggles with Serious Hunger Levels, Ranking 99th in Global Hunger Index
Pakistan's Serious Hunger Crisis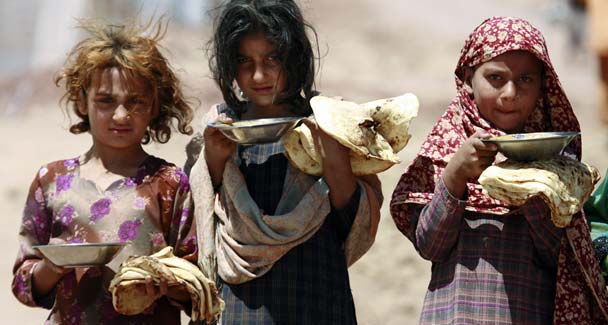 Pakistan continues to face a significant hunger crisis, with the country being ranked 99th in the Global Hunger Index (GHI), published jointly by Welthungerhilfe and Concern Worldwide. The GHI is an annual pre-reviewed report aimed at raising awareness and understanding of the pervasive issue of hunger worldwide.
According to the latest GHI rankings, Pakistan occupies the 99th position out of 121 countries with sufficient data to calculate the 2022 scores. With a score of 26.1, Pakistan is categorized under the "serious" level of hunger, underscoring the gravity of the situation and the urgent need for intervention.
The report's findings shed light on the compounding impact of armed conflicts, climate change, and the COVID-19 pandemic, which have exacerbated the hunger crisis globally. In 2021, a staggering 828 million people around the world were forced to endure hunger as a result of these interconnected challenges.
Of particular concern, the report highlights that hunger remains most severe in Africa, especially South of the Sahara, and in South Asia. Among these regions, South Asia stands out with the highest hunger level, grappling with the highest child stunting rate and alarmingly high child wasting rate compared to any other region globally.
As Pakistan confronts its hunger crisis, addressing this critical issue demands urgent attention and effective interventions. The Global Hunger Index serves as a call to action for both national and international stakeholders to come together and combat hunger while ensuring access to food for the most vulnerable populations.
Addressing the root causes of hunger and promoting sustainable development are vital steps toward creating a hunger-free future for Pakistan and the rest of the world. Coordinated efforts, innovative strategies, and collective determination are essential in achieving food security and ending hunger in Pakistan.