Pakistan's Population Surpasses 241 Million with 2.55% Growth Rate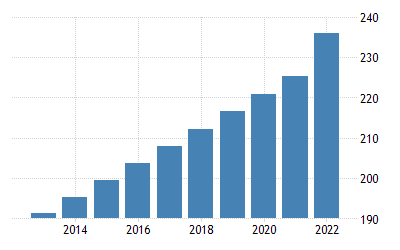 The population of Pakistan has surged to 241.49 million, reflecting a growth rate of 2.55 percent as confirmed by the latest digital census approved by the Council of Common Interests (CCI).
The CCI convened under the leadership of Prime Minister Shehbaz Sharif and attended by chief ministers of all provinces endorsed the census results in its recent meeting.
Key Population Figures by Province
According to the data provided by the Pakistan Bureau of Statistics (PBS), Punjab houses the largest population with 127.68 million residents, followed by Sindh with 55.69 million inhabitants. Khyber Pakhtunkhwa (KP) accounts for a population of 40.85 million, while Balochistan's populace stands at 14.89 million. The capital city, Islamabad, has a population of 2.36 million.
Changing Trends
Comparing with the 1998 census data, which pegged the population at 132.35 million, and the 2017 figure of 207.68 million, the current growth rate indicates an increasing trend. The growth rate in 1998 was 2.69 percent, reducing to 2.40 percent in 2017. However, the latest census indicates a slight increase to 2.55 percent.
Urban-Rural Distribution
Roughly 61.18 percent of Pakistan's population resides in rural areas, while 38.82 percent live in urban centers. The breakdown varies across provinces, with KP having 84.99 percent of its population in rural areas, Balochistan at 69.04 percent, Punjab at 59.30 percent, Sindh at 46.27 percent, and Islamabad at 53.10 percent.
This census sheds light on the changing demographics of Pakistan, highlighting the evolving urban-rural dynamics and their implications for future development and planning.