Allama Iqbal Open University (AIOU) Announces Admissions Schedule for Autumn 2023, Fostering Accessible Education Nationwide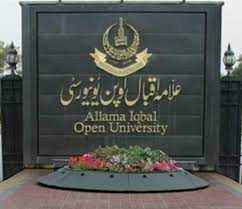 Allama Iqbal Open University (AIOU) has unveiled the highly anticipated admissions schedule for the Autumn 2023 semester, bringing exciting opportunities for students across the country. With the first phase of admissions commencing on July 15th and the second phase starting on September 1st, AIOU is set to offer a wide array of programs to cater to diverse educational aspirations.
According to reports, the initial phase of admissions will welcome applications for various programs, including Matric (General), Matric (Dars-e-Nizami), Matric (Open Courses), FA (General), FA (Dars-e-Nizami), FA (Open Courses), I. Com, middle tech, certificate courses, BS, MBA, MPhil/MS, and Ph.D. programs. This extensive range of programs ensures that students from different educational backgrounds can find suitable options to pursue their academic goals.
To enhance convenience for students residing in different regions, AIOU's Vice-Chancellor (VC), Prof Dr. Nasir Mahmood, has approved the establishment of information counters, facilitation centers, and prospectus sale points throughout the nation. This strategic decision aims to provide comprehensive guidance and support to students throughout the admission process. Dr. Mahmood has issued directives to regional heads, urging them to ensure that students receive the necessary assistance and information at these centers.
In addition to information centers, AIOU is also committed to establishing prospectus sale points across the country. This proactive step ensures that students can easily obtain the required materials, including prospectuses, from locations closest to their residences. By making prospectuses readily available, AIOU aims to eliminate any barriers to accessing vital information about the available programs, admission requirements, and academic offerings.
To guarantee inclusivity and ensure that every student has access to education, AIOU has called upon regional heads, tutors, and resource persons to actively participate in the admission campaign. Their involvement will play a crucial role in spreading awareness, guiding prospective students, and addressing any queries or concerns they may have. This collective effort ensures that students receive the necessary support and encouragement to make informed decisions about their educational journey.
It is worth highlighting that candidates applying online will not be required to dispatch printed application forms to the university, streamlining the application process and reducing unnecessary paperwork.
The announcement of the admissions schedule for Autumn 2023 reflects AIOU's commitment to providing accessible education to students nationwide. By offering a diverse range of programs, establishing information counters and facilitation centers, and ensuring the availability of prospectuses, AIOU strives to create an inclusive learning environment. Through these efforts, AIOU paves the way for students to embark on a transformative educational journey, regardless of their geographical location or educational background.