Education System in Distress: Postgraduate Candidates' Alarming Lack of Basic Knowledge Exposed
Postgraduate Candidates Struggle with Basic Knowledge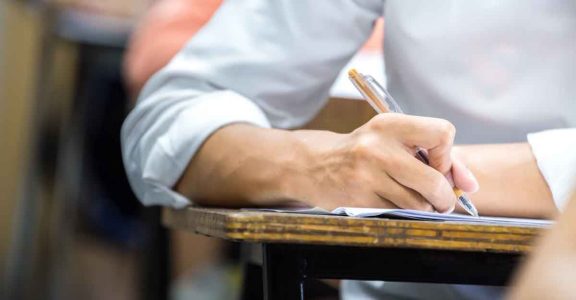 In a scathing review of the education system's inadequacies, the Khyber Pakhtunkhwa Public Service Commission (KPPSC) has shed light on a deeply concerning trend. According to a recent report, a significant number of candidates with postgraduate degrees demonstrated a shocking lack of basic subject knowledge during screening tests for various government job positions.
The KPPSC's report expresses grave concerns over the poor quality and low standards of postgraduates produced by educational institutions in KP. The candidates' performance in screening tests for appointments in BPS-17 and above revealed a superficial understanding of their respective subjects, lacking analytical aptitude.
The deficiencies were glaringly apparent in the fields of mathematics and statistics, where many candidates with postgraduate and MPhil degrees struggled to answer elementary-level simple questions during their whiteboard demonstrations, some even resorting to using calculators for basic math.
The situation was equally disheartening in languages and literature, as candidates showcased an inadequate grasp of grammar, syntax, and pronunciation in both Urdu and English.
Furthermore, the report exposed the candidates' lack of knowledge about major regional and international happenings, with many admitting to not regularly reading newspapers.
The observations made by the KPPSC were not limited to new candidates; even experienced government servants displayed deficiencies during in-service examinations under the 'fast track promotion quota.' Officers and officials with significant experience in elevated positions were found lacking in basic professional knowledge for their respective fields.
Out of 212 candidates, a mere 61 managed to qualify for the minimum passing threshold in the examination, underscoring the overall poor performance and educational standards in the institutions.
The report attributes these shortcomings to the current academic evaluation system in educational institutions, which fails to prioritize personality development and leadership qualities. Consequently, candidates lack confidence in articulating their arguments convincingly during interviews.
To address these alarming findings, the KPPSC has called upon the government to implement comprehensive reforms in the education system, aligning it with modern needs. Failing to do so might result in the state struggling to find qualified individuals to bear the responsibility of public service.
The report emphasizes that candidates' postgraduate qualifications often remain superficial due to a reliance on substandard guidebooks instead of original material. This limited knowledge severely hampers candidates' true potential, raising questions about the efficacy of teaching institutions and the lack of a teacher evaluation system.
The role of the Higher Education Commission (HEC) is also brought into focus, as it should establish internationally recognized standards of teaching methods. Holding faculty members accountable for students' performance and future career prospects within the department could further incentivize quality teaching and promote a more robust educational ecosystem.