Pakistan's Nabeel Outshines India: Sets New Guinness World Record in Memory!
Pakistan's Nabeel Breaks Guinness World Record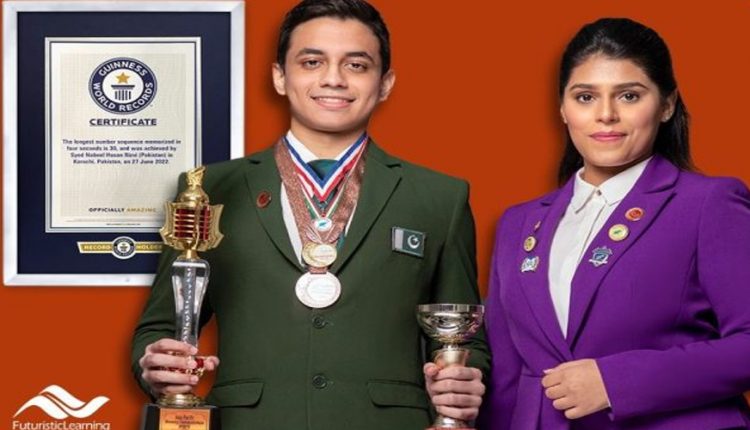 In an astounding display of memory mastery, Nabeel Hasan from Pakistan has shattered yet another Guinness World Record, leaving everyone in awe. He accomplished the remarkable feat of memorizing a staggering 120 random 3-digit flash numbers in perfect sequence, securing the esteemed title of "Most three-digit flash numbers memorized – 40 sets."
Nabeel's journey to this remarkable achievement was made possible with the guidance of his coach, Sania Alam, an expert from the Institute of Futuristic Learning USA. Sania Alam played a pivotal role in honing Nabeel's memory prowess to reach an extraordinary level.
The fruits of Nabeel's dedication and rigorous training have not only led him to secure world records but also to venture into international mind sports competitions. His participation in the World Memory Championships earned him the coveted title of Junior UK Memory Champion in 2019. Not stopping there, Nabeel also clinched a Bronze Medal in the UK Mind Mapping Championship.
Interestingly, Nabeel had previously etched his name in the record books in 2022. He set the Guinness World Record for "Longest Number Sequence Memorized in Four Seconds," where he accurately recalled a whopping 30 random numbers in a mere 4 seconds, surpassing the previous Indian record holder.
According to Nabeel, the key to unlocking the potential of memory lies in proper training and unwavering dedication. His awe-inspiring accomplishments are a testament not only to his own determination but also to the exceptional coaching prowess of Sania Alam. Alam's guidance has not only produced World Memory Champions but has also nurtured World Speed Reading Champions and World Mind Mapping Champions (junior), leading to a total of four other Guinness World Records.
Nabeel's journey is an inspiration to all, highlighting the limitless potential of the human mind when nurtured with the right guidance and determination. This achievement serves as a beacon of pride for Pakistan and a reminder that with the right mindset, incredible feats can be accomplished.