Saudi Arabia Unveils $90 Million King Abdullah Campus at Azad Kashmir University
Saudi Arabia Funds $90 Million Campus at Azad Kashmir University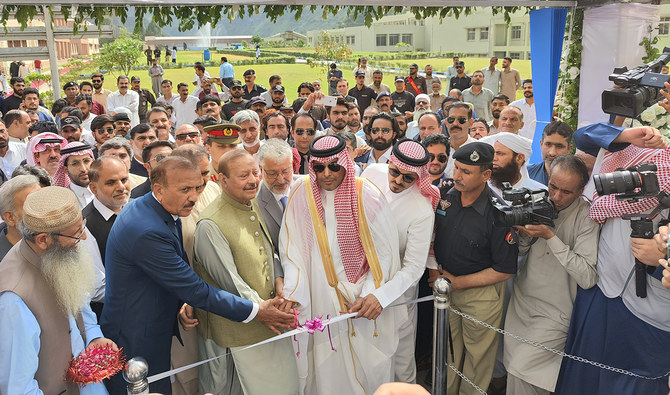 In a momentous occasion, Saudi Arabia has officially inaugurated the King Abdullah Campus at Azad Jammu and Kashmir University (UAJK) in Pakistan. The remarkable project has been made possible through a generous $90 million grant from the Kingdom of Saudi Arabia.
The inauguration ceremony was led by Dr. Saud bin Ayed Al-Shammari, the Director General of Asia Operations at the Saudi Fund Development (SFD), and witnessed the presence of Sultan Mehmood Chaudhary, the President of the State of Azad Jammu & Kashmir.
This newly established campus boasts an impressive array of facilities, including 15 academic departments, a well-stocked library, a mosque, administration blocks, modern accommodations, and a state-of-the-art auditorium. Anticipated to benefit over 10,000 students, esteemed faculty members, and dedicated staff, the campus promises to foster cutting-edge research and offer educational opportunities that will play a pivotal role in advancing Pakistan's sustainable socio-economic growth.
Of particular significance is the project's alignment with various United Nations Sustainable Development Goals. By focusing on Quality Education, Gender Equality, Decent Work and Economic Growth, as well as Sustainable Cities and Local Communities, the King Abdullah Campus embodies a holistic approach to development.
Sultan Mehmood, the President of Azad Jammu and Kashmir, expressed profound gratitude to Saudi Arabia for their invaluable support. The Director General of SFD, Dr. Saud bin Ayed Al-Shammari, underscored the enduring partnership between Pakistan and SFD, which spans an impressive 47 years and is dedicated to propelling Pakistan's sustainable development.
The inauguration of the King Abdullah Campus stands as a significant milestone, symbolizing the profound friendship and strong alliance between the two nations. It not only enriches educational opportunities but also solidifies the bonds that tie Saudi Arabia and Pakistan together.