Aishwarya Rai Shines at Paris Fashion Week with L'Oréal's 'Walk Your Worth
L'Oréal's Empowering 'Walk Your Worth' Show Takes Center Stage with Aishwarya's Radiant Runway Presence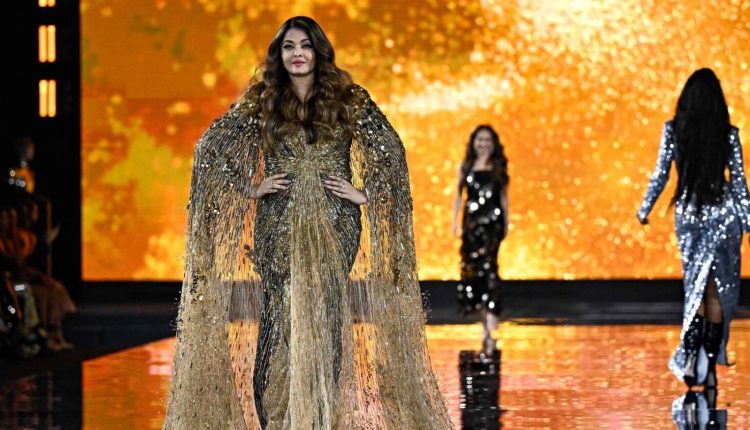 Aishwarya Rai Bachchan illuminated the Paris Fashion Week runway alongside global sensations Kendall Jenner and Eva Longoria, headlining L'Oréal Paris's empowering showcase titled 'Walk Your Worth.' Set against the backdrop of the iconic Eiffel Tower, the event gathered an ensemble of celebrities, including Andie MacDowell, Dame Helen Mirren, Aja Naomi King, Viola Davis, and more, each embodying the theme of self-worth and empowerment.
The 49-year-old Indian actress not only walked the ramp but also assumed the role of co-presenter for Sunday's spectacle. Aishwarya Rai 'shimmered and shined' in a resplendent gold gown adorned with intricate embellishments and cascading overlays. A captivating gold shimmering cape, fastened elegantly at the rear, added a touch of regality, while artfully draped ruffles accentuated her waist.
Her makeup, featuring pink-tinted lips and distinctive fluttery eyelashes with winged eyeliner, remained true to her signature style. The actress surprised onlookers with blonde highlights cascading over her shoulders, a departure from her usual look that sparked conversations about her evolving aesthetic.
Aishwarya's presence became an instant sensation on social media, with a flurry of videos and images capturing her radiant runway appearance.
The 'Walk Your Worth' show, held in the open air, transcended traditional fashion events by delivering a powerful and inclusive message centered around beauty, strength, and self-esteem. L'Oréal Paris strategically chose this theme for their Défilé 2023 to convey a message of women's emancipation, aligning with their international program "Stand Up," dedicated to raising awareness about street harassment.
Delphine Viguier-Hovasse, the International General Manager of L'Oréal Paris, emphasized the brand's commitment to feminism and self-improvement. She noted that, as a feminine and feminist brand, L'Oréal Paris views self-esteem as a product of self-improvement, with beauty serving as a catalyst in this transformative journey. The 'Walk Your Worth' event underscored L'Oréal's dedication to promoting a positive and empowering narrative in the realm of beauty and fashion.