Blue Beetle: A Game-Changer in Superhero Films – Review and Analysis
Discover the Breakthrough Latino Superhero, Jaime Reyes, in DC's 'Blue Beetle'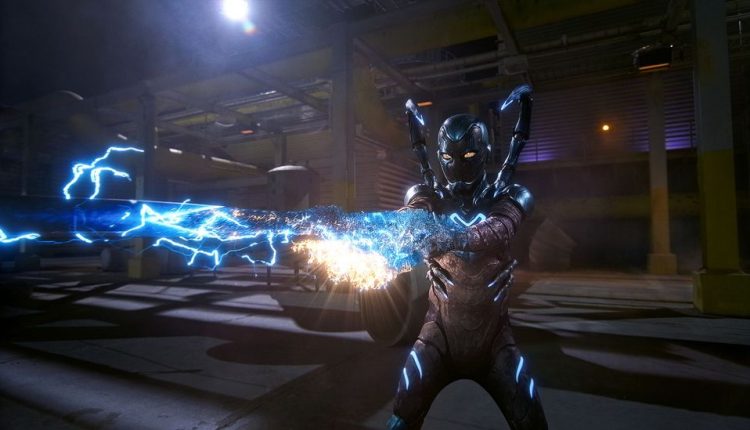 'Blue Beetle' Takes Flight as a Fresh and Inclusive Addition to the Superhero Universe
In the realm of superheroes, it seems like there's no shortage of insect-inspired characters. From Spider-Man to Ant-Man and even crime-fighting ticks, the insect-themed heroes have buzzed their way into our hearts. Now, a new addition to this entomological ensemble arrives in the form of 'Blue Beetle,' a DC Comics film that brings something fresh to the genre. Directed by Ángel Manuel Soto and written by Gareth Dunnet-Alcocer, 'Blue Beetle' introduces Jaime Reyes (Xolo Maridueña), not only as a new superhero but also as the first Latino superhero in a leading role in a DC film.
The story revolves around the Reyes family, a close-knit Mexican-American household residing in the vibrant, Miami-like fictional metropolis of Palmera City. Jaime is their first college graduate, a fact celebrated enthusiastically by his sister, Milagro (played by the scene-stealing Belissa Escobedo). However, the family faces financial struggles, with the looming threat of losing their home to the formidable Kord Industries. Living under the same roof are Jaime's grandmother (Adriana Barraza) and his truck-driving uncle (a lively George Lopez).
Jaime's post-college dreams are put on hold as he takes up a job cleaning hotel rooms alongside his sister. The weight of his family's sacrifices for him burdens him with guilt. His life takes an unexpected turn when he encounters Jenny Kord (played by Brazilian actress Bruna Marquezine), the niece of Victoria (Susan Sarandon), the powerful CEO of Kord Industries. Jenny is in possession of a mysterious blue metallic scarab from outer space, known as the Khaji da, which she plans to use to create a privatized robotic army. Jaime seizes the opportunity to work for Kord Industries but gets more than he bargained for when the scarab merges with him, granting him incredible powers.
The transformation sets the stage for Jaime's journey of adapting to his newfound abilities and uncovering the scarab's past. The film delivers the anticipated climactic showdown between two CGI-powered forces, but 'Blue Beetle' manages to stand out in its own way. What sets it apart is its unwavering focus on family. The Reyes family remains an integral part of Jaime's life, even during the most challenging times. The grandmother's intriguing past as a revolutionary adds depth and humor to the narrative.
Director Ángel Manuel Soto takes a refreshing approach, infusing the film with moments of humor and vibrant neon aesthetics. 'Blue Beetle' doesn't necessarily break new ground, and Maridueña's portrayal of the titular hero doesn't leave a lasting impression. However, the film succeeds in reminding us that superhero movies can be lighthearted and entertaining without losing their ability to convey meaningful messages.
'Blue Beetle' is a tribute to the resilience of Mexican-American families who have fought their way into a society that hasn't always been welcoming. Instead of treating family members as mere plot points, the film places them front and center, with George Lopez delivering numerous humorous moments that hit the mark. In an era of self-reflection for superhero movies, 'Blue Beetle' emerges as a hopeful addition. While it finds itself amidst industry shifts and uncertainties, it has the potential to win over audiences, especially young Hispanics who may not be accustomed to seeing their culture represented in Hollywood's comic book spectacles.
As we navigate a changing landscape for superhero films, 'Blue Beetle' reminds us that diversity and inclusion can inject new life into the genre. It may be a bug in the system, but it's one that carries the promise of a brighter and more inclusive future for superhero movies.
'Blue Beetle' Movie Details:
– Director:Ángel Manuel Soto
– Cast:Xolo Maridueña, Bruna Marquezine, George Lopez
– Rating:⭐⭐2 out of 4