Mahira Khan's Bridal Glam: The Designer's Secret Spell
Faraz Manan's Mystical Touch on Mahira's Wedding Attire Revealed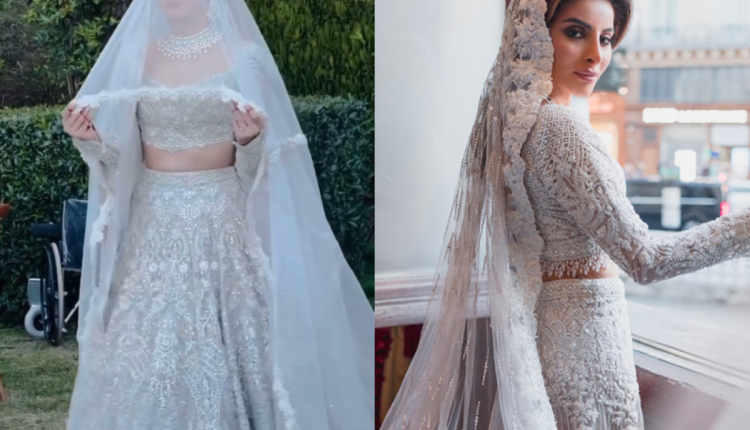 In a spectacle that left fans enraptured, Pakistani luminary Mahira Khan, known globally for her acting prowess, recently took the plunge into matrimony, bedecked in a resplendent bridal ensemble. The star, celebrated for her impeccable fashion sense, chose not just any designer for her special day but opted for the artistic finesse of her longtime friend in the fashion realm, Faraz Manan.
Breaking away from the norm of bridal fashion campaigns, Mahira mesmerized onlookers as she gracefully traversed the aisle in a meticulously crafted silver ensemble, a radiant bride on the arm of businessman Salim Karim. The internet buzzed with admiration for the Maula Jutt star's choice of attire, leaving netizens curious about the creative mind behind the masterpiece.
Faraz Manan, renowned for his sophisticated designs and a clientele that spans the globe, shared glimpses of Mahira's dreamy wedding on his Instagram. The Humsafar star looked ethereal in a heavily embellished lehenga in a sparkling silver tone, a signature creation by Manan. The dress, adorned with intricate designs, sequins, and stonework, showcased the designer's prowess in creating couture that befits a global icon.
Faraz Manan's luxury label has graced the likes of Cristiano Ronaldo's girlfriend, Georgina Rodriguez, and Bollywood diva Kareena Kapoor, solidifying his status as one of Pakistan's most sought-after fashion designers.
Mahira Khan's ensemble featured a veil crafted from delicate net fabric, complemented by a dupatta gracefully covering her head. Her groom, Salim, stood in sartorial harmony, donning a black sherwani paired with a sky-blue turban.
This isn't the first collaboration between Mahira and Faraz Manan. The previous year witnessed Mahira as the muse for the couturier's jewellery and couture collection. In an Instagram post, the designer lauded Mahira as a "beautiful, dynamic, and dear friend," praising her as a modern woman who effortlessly balances motherhood and a flourishing career.
As Mahira Khan steps into this new chapter of her life, she does so with the timeless elegance and grace that have become synonymous with her persona—a grace impeccably captured in the artistic brilliance of Faraz Manan's bridal masterpiece.