Mariam Ansari and Owais Khan Welcome Baby Amaya Khan
Pakistani Celebrity Couple Celebrate the Arrival of Their Newborn Daughter, Amaya Khan, Amidst Cheers and Congratulations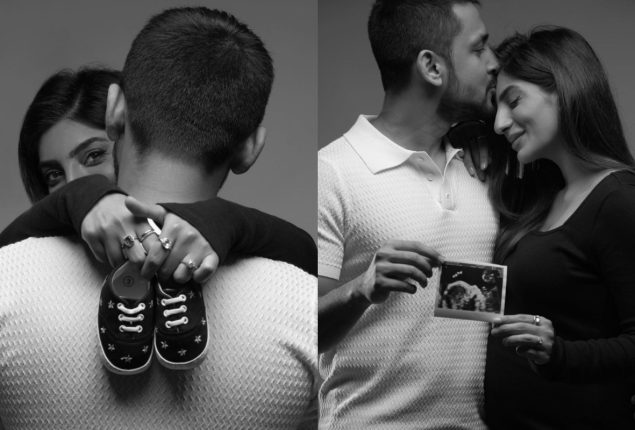 In a heartwarming announcement that has delighted fans and well-wishers alike, Pakistani actor Mariam Ansari and her husband Owais Khan are now proud parents to a beautiful baby girl named Amaya Khan. The joyous news was shared with the world through a heartwarming post on their Instagram accounts.
The adorable Amaya Khan made her grand entrance into the world on Tuesday, July 4, 2023, marking a significant milestone in the couple's journey into parenthood.
Mariam and Owais couldn't contain their excitement as they posted a series of enchanting pregnancy photos on their social media profiles. In a joint statement, they expressed their gratitude and happiness, saying, "Welcoming our little bundle of joy Amaya Khan into the world. Thank you for making our life complete."
The announcement was met with a flood of love and congratulations from their friends, family, and fans. Notably, Ali Ansari and Saboor Aly, who happen to be Mariam's brother and sister-in-law, were among the first to extend their best wishes. Ali expressed his joy with a heartfelt "MashaAllah," while Saboor couldn't contain her happiness, declaring that she was the "happiest" to hear that their "little angel is finally here." She even shared a delightful image of sweets in celebration of this joyous occasion.
Mariam Ansari and Owais Khan's love story is one that warms the hearts of many. The couple, who were high school sweethearts, exchanged their vows in an intimate ceremony in February 2021. Owais shared the special moments from their wedding and related ceremonies on February 8, through his Instagram Stories. Given the COVID-19 restrictions, they opted for a virtual celebration, where their close friends and family joined in from afar.
Their love story, however, has a touch of destiny and fate. Mariam revealed during an episode of "Time Out with Ahsan Khan" that they first crossed paths on the first day of college when Owais playfully teased her as a freshman. In a twist of events, Mariam decided to take revenge, but little did she know that this prank would eventually lead them to marriage. As the host humorously put it, "You got so serious about revenge, you ended up marrying him. It's a life-long revenge cycle now." It's a testament to how love can blossom in the most unexpected of circumstances.
Mariam Ansari and Owais Khan's journey into parenthood promises to be filled with love, laughter, and cherished memories. As they embark on this new chapter of their lives, the couple is undoubtedly surrounded by the warm wishes of their fans and well-wishers, eager to see the beautiful Amaya Khan grow and thrive in the loving embrace of her parents.