Saba Qamar Honoured with UAE Golden Visa
A Milestone Achievement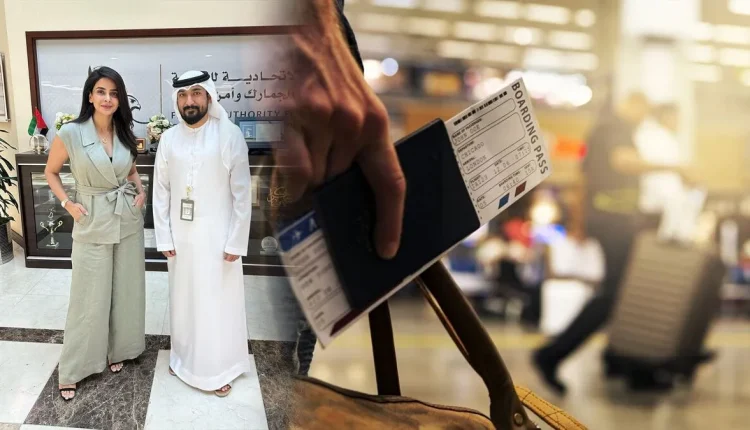 In a moment of elation, Pakistan's esteemed film and television luminary, Saba Qamar, has proudly unveiled her latest accolade – a coveted golden visa from the United Arab Emirates (UAE). The celebrated actor took to Instagram on a Tuesday, expressing her deep gratitude to the Gulf nation for bestowing upon her this honorable recognition. Saba Qamar's heartfelt message resonates with warmth as she eloquently conveys, "I cannot thank enough for opening your home to me."
With humility and appreciation, Qamar extended her heartfelt recognition to the dedicated consultants who expertly navigated her through the entire golden visa acquisition process. She attributes her successful endeavor to the unwavering support provided by @gcclegalconsultants. In her own words, "I want to thank the amazing government of UAE for honouring me with the Golden Visa, can't thank you guys enough for opening your home to me – this entire process wouldn't have been possible without the help of @gcclegalconsultants you guys have been a great support – lots & lots of love your way!"
A testament to the strength of her gratitude, Saba Qamar also shared a visual thread featuring the flags of both Pakistan and the UAE, symbolizing unity and a harmonious blend of cultures.
As per the official website of the UAE government, the golden visa embodies a profound opportunity – a long-term residence visa tailored to empower foreign talents with the ability to live, work, or study within the nation, all while reaping exclusive benefits.
The scope of the golden visa's eligibility casts a wide net, encompassing diverse categories of individuals, including investors, entrepreneurs, scientists, exceptional students and graduates, humanitarian visionaries, and front-line heroes. This select group underscores the UAE's commitment to fostering an environment of innovation and progress.
The golden visa program unlocks a series of privileges for its recipients:
Extended Residency: The visa facilitates an extended stay of up to six months with multiple entries, streamlining the residence issuance process.
Long-Term Renewal: Successful applicants enjoy the privilege of a renewable residence visa that remains valid for either five or ten years.
Sponsorship Autonomy: The golden visa liberates individuals from the requirement of sponsorship, promoting independence.
Extended Stay Flexibility: Visa holders can reside outside the UAE for periods exceeding the standard six-month limit, ensuring the continuous validity of their residence.
Family Sponsorship: Golden visa holders are empowered to sponsor family members, including spouses and children of all ages.
Domestic Helper Sponsorship: The program accommodates the sponsorship of an unlimited number of domestic helpers.
Family Security: Even in unfortunate circumstances such as the primary golden visa holder's passing, family members are permitted to continue residing in the UAE until their permit durations expire.
Saba Qamar's announcement epitomizes the UAE's commitment to recognizing and embracing exceptional talents from around the world. Her golden visa not only amplifies her individual journey but also underlines the UAE's inclusive and forward-thinking ethos. With her heartfelt gratitude, Saba Qamar becomes a prominent figure in the UAE's diverse cultural landscape, further enriched by the golden visa program.