Spotify's 'Pakka Hit Hai' Round Two: Lahore's Musical Fiesta
From Towers to Talal Qureshi, the Beat Goes On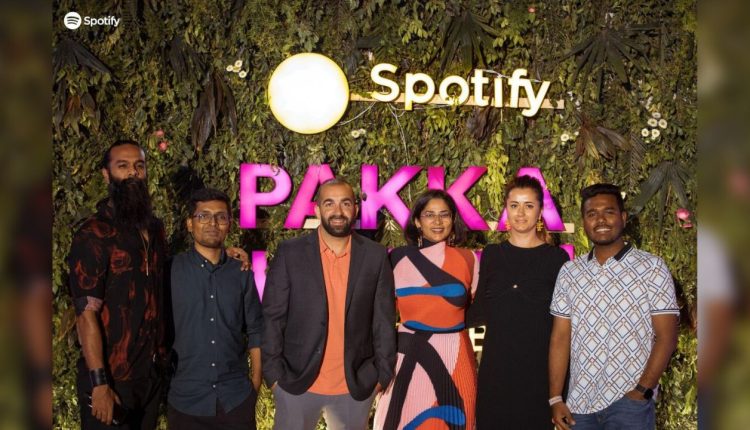 In a resounding crescendo of music and exhilaration, Lahore witnessed the pulsating beats of the second round of Spotify's much-anticipated "Pakka Hit Hai" gig.
The musical spectacle unfolded with a captivating opening act by Towers, paving the way for the headline performance by none other than the prodigious music producer and composer, Talal Qureshi.
Far more than a mere concert, the "Pakka Hit Hai" gig, as highlighted in Spotify's official statement, is a jubilation of music, creativity, and the potent force of collaboration. The recent installment of this series transformed the city into a musical haven, where hits are not just promised – they are undeniably "Pakka Hit Hai."
According to Spotify, "Pakka Hit Hai" isn't just an event; it's a celebration that encapsulates the essence of music and the vibrant collaboration within the industry.
"'Pakka Hit Hai' is Spotify's maiden playlist dedicated to showcasing the cream of the crop in current Pakistani hits. Prior to its launch in July 2022, there was no dedicated space for local Pakistani chart-toppers. This playlist serves as the intersection of hits and culture, embodying everything that resonates with the Pakistani audience," shared Rutaba Yaqub, Spotify's Senior Editor for Pakistan, Sri Lanka, and Bangladesh.
The second edition of the 'Pakka Hit Hai' gig, conducted in collaboration with COLABS, aimed to forge connections between audiences and renowned artists through a live playlist experience.
Since its inception in March 2023, the "Pakka Hit Hai" playlist has experienced a remarkable 65% surge in followers. The top three artists gracing this musical hub are Bayaan, Kaifi Khalil, and Jawad. Among the standout tracks, Kaifi Khalil's "Kahani Suno 2.0" claims the throne, followed by the enduring chart-toppers "Bikhra" and "Iraaday" by Abdul Hannan and Rovalio, respectively. The playlist stands as a testament to the dynamic musical landscape of Pakistan, resonating with the diverse tastes of its audience.