Wahaj and Ayeza's New Show 'Mein' Excites Fans from First Episode
Thrilling Start: 'Mein' Drama's First Episode Excites Fans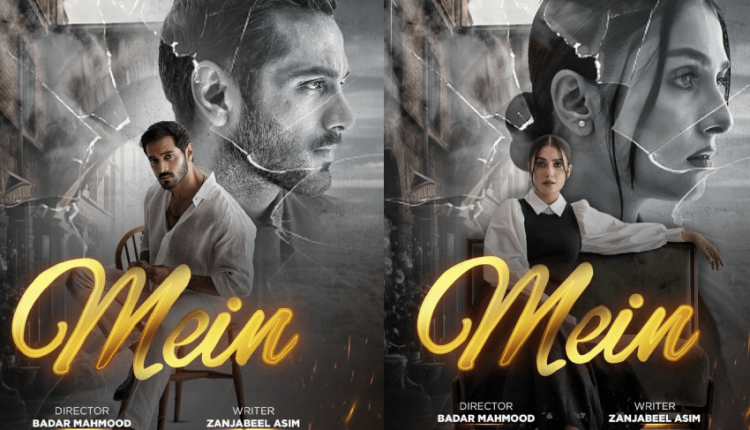 The buzz around Big Bang Entertainment's latest drama serial, "Mein," had already reached a fever pitch even before its debut episode hit the screens. Starring the dynamic duo of Wahaj Ali and Ayeza Khan sharing the spotlight for the first time, the drama has captured the attention of eager viewers who couldn't wait to see this much-anticipated collaboration unfold.
Penned by the acclaimed writer Zanjabeel Asim Shah and masterfully directed by the renowned Badar Mehmood, "Mein" holds the promise of a compelling narrative with a stellar cast and creative team behind it.
With the premiere episode recently making its debut, fans are already abuzz with excitement. The story orbits around Mubashira Jaffar, a wealthy but spoiled woman, portrayed by Ayeza Khan, and her co-star Wahaj Ali, who brings to life the character of Zaid, a business magnate. The intrigue deepens as Mubashira, bound in an unwanted marriage where she exercises dominance, crosses paths with Zaid, entangled in a love story with a girl from a modest background, played by Azekah Daniel.
As the narrative unfolds, the drama takes a twist during Mubashira's extravagant birthday celebration. The event brings together Zaid's family, who are close friends with Mubashira's family. Amidst the festivities, Mubashira's husband (Agha Mustafa Hassan) presents her with a birthday surprise that shatters her expectations – a box containing divorce papers. This unexpected turn marks a pivotal moment in Mubashira's life, setting the stage for intricate developments in the storyline, including the burgeoning romance between Mubashira and Zaid.
Enthusiastic fans have already started speculating about the romantic trajectory of the central characters, expressing their delight and anticipation for the unfolding drama. The recent release of the captivating OST of "Mein," featuring the enchanting vocals of Asim Azhar and penned by renowned Indian lyricist Kunaal Vermaa, has only intensified the anticipation surrounding the drama.
Online platforms have been inundated with tweets and posts from fans of the "WaiZa" (Wahaj and Ayeza) pairing, showering love and excitement for the newly launched drama. Some enthusiasts even predict that "Mein" could shatter previous viewership records, attributing this anticipation to Wahaj Ali's burgeoning popularity as a favorite among viewers.
Both Wahaj Ali and Ayeza Khan are seasoned and versatile actors, each boasting a rich acting history peppered with numerous hit dramas. Wahaj's portrayal of "Murtasim Khan" opposite Yumna Zaidi in "Tere Bin" resonated with audiences, while Ayeza Khan's recent performance in the Ramadan special "Chand Tara" alongside Danish Taimoor showcased her remarkable acting prowess.
As "Mein" continues to unravel its intriguing narrative, fans and enthusiasts eagerly await the developments that lie ahead, with hopes that this collaboration will set new standards in the world of Pakistani television dramas.