Writer Khalil ur Rehman Firm: No Future Collaborations with Mahira Khan
Not Working Together: Khalil ur Rehman Rules Out Collaborations with Mahira Khan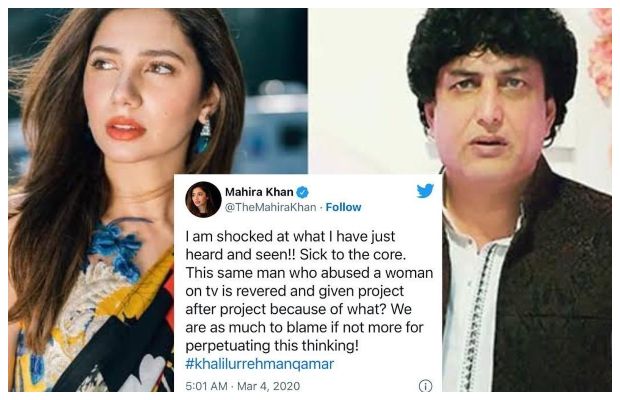 Renowned TV drama writer Khalil ur Rehman has stated that he will never work with Mahira Khan. Khalil ur Rehman is a well-known Pakistani writer who has penned scripts for numerous popular dramas and films, gaining popularity not only in Pakistan but also in India.
Some of his notable dramas include "Meray Paas Tum Ho," "Sadqay Tumhare," and "Punjab Nahi Jaungi."
Khalil ur Rehman recently participated in a talk show hosted by Mohsin Abbas Haider, where he expressed his decision not to work with Mahira Khan. He mentioned that there were attempts within the showbiz industry to reconcile them, but it didn't yield positive results.
It's worth noting that Mahira Khan had previously worked in Khalil ur Rehman's drama "Sadqay Tumhare." The two have been at odds since an incident involving inappropriate language was used against social activist Marvi Sirmed on a TV show, for which both Khalil ur Rehman and Mahira Khan faced backlash.
I am shocked at what I have just heard and seen!! Sick to the core. This same man who abused a woman on tv is revered and given project after project because of what? We are as much to blame if not more for perpetuating this thinking! #khalilurrehmanqamar

— Mahira Khan (@TheMahiraKhan) March 4, 2020
Khalil ur Rehman expressed his astonishment at the fact that despite the respect he had for Mahira Khan, she didn't prevent using inappropriate language on social media. He stated that he had offered her to call and discuss the matter privately multiple times, but she chose not to engage.
He praised Mahira Khan's acting abilities but reiterated his decision not to work with her. This decision comes after a series of public disagreements between them over the past few years.
It's important to note that Khalil ur Rehman had previously faced criticism for his views and language on various occasions.