A Tragic Bus Accident Claims 21 Lives in Venice
A Devastating Accident Unfolds as Tourist Bus Plummets off Bridge, Prompting Urgent Safety Concerns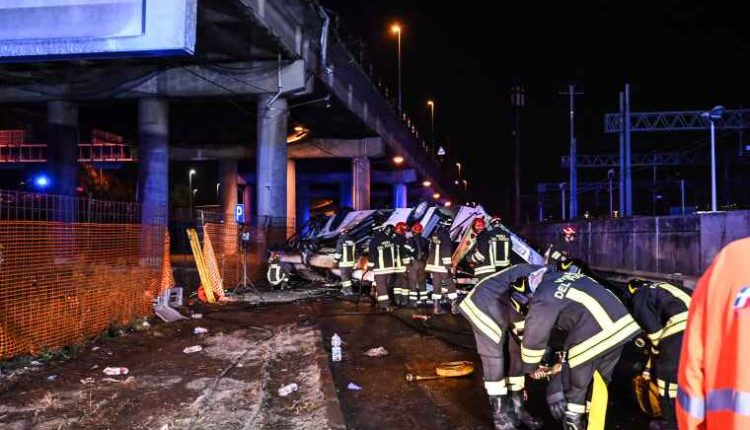 Venice, Italy—In a devastating incident, a bus plummeted off a bridge straddling a railway line in the enchanting city of Venice, resulting in the loss of at least 21 lives, including two children, and leaving 12 others injured on Tuesday.
Emergency responders, including firefighters, swiftly arrived at the scene to aid the victims, reported La Republica. A City Hall spokesperson informed AFP, "The crash caused at least 20 deaths, including two children."
The bus, reportedly rented by tourists—many of whom were foreigners—crashed and subsequently caught fire after careening off a bridge connecting the Mestre and Marghera districts of the northern Italian city.
Describing the horrifying aftermath, Mayor Luigi Brugnaro expressed his grief on Facebook, calling it "an apocalyptic scene." Prime Minister Giorgia Meloni conveyed her "profound condolences" and stated, "I am in contact with Mayor Luigi Brugnaro and [Transport] Matteo Salvini in order to follow the news of this tragedy."
Providing further details, Mayor Brugnaro disclosed, "At least twenty dead, a huge tragedy. The bus involved in the accident was going from Venice to Marghera, full of people returning home from work." He added, "He went completely off the road and flew off the bridge. It was a bus, it was an expressway. We are in mourning."
Matteo Piantedosi, the Minister of the Interior, highlighted the need to ascertain the causes, stating, "In addition to the flight and the notable impact that the vehicle had, it seems that the aggravating factor was the methane fueling with the fire that then developed."
This tragic incident evokes memories of a similar catastrophe in July 2018 when a bus, transporting around 50 holidaymakers back to Naples, plunged off a viaduct near the city, claiming the lives of 40 people. The city is now grappling with the aftermath of another heart-wrenching bus crash, raising concerns about safety measures and regulations in place.