Dubai Real Estate: Record-Breaking Demand Fuels New Project Launches
International Developers Join the Fray as Dubai's Real Estate Market Flourishes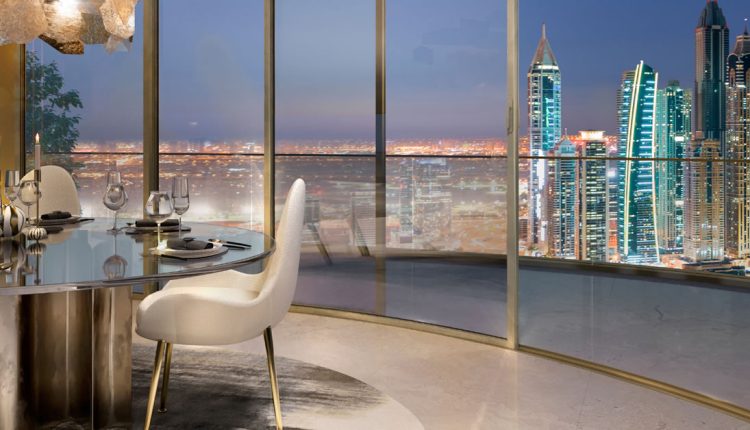 Dubai, September 13, 2023* – Dubai's real estate sector is experiencing a remarkable resurgence, with new projects gaining momentum and a surge of buyers flooding the market. Off-plan sales have reached their highest market share since the onset of the Covid-19 pandemic, painting a promising picture for the emirate's property landscape.
Developers, both local and international, are capitalizing on Dubai's reputation as a mature and stable market known for delivering consistent and lucrative returns on investments. The market is thriving, with investors eagerly snatching up newly launched units.
According to Property Monitor, off-plan sales have surged, reaching the highest market share since the pandemic began. In a notable development, the total volume of sales transactions in August recorded an impressive 8.1 percent month-on-month increase, culminating in 12,134 sales, marking the highest August volume ever.
Dubai's real estate market has witnessed an astonishing 41.9 percent increase in sales transactions compared to the same period last year, with a staggering 125.4 percent spike when compared to 2021. The monthly transaction volumes in 2023 are eclipsing all previous records, setting the stage for the market to potentially surpass the highest-ever annual sales record established in 2009.
This robust performance is emboldening developers to launch new projects, with demand on the horizon showing no signs of waning. Some developers have even reported selling up to 30 percent of their units before project launches.
Notably, not only individual developers but also major players in the industry are seizing the opportunity. Palm Jumeirah alone is poised to witness the launch of billion-dirham projects. Emaar Properties, the UAE's largest developer, unveiled "The Oasis by Emaar," a massive $20 billion project in June. Covering over 100 million square feet, it will feature more than 7,000 residential units, including spacious mansions and villas with scenic views of water canals, lakes, and parks.
Danube Properties, on the other hand, has already launched five projects this year, with "Oceanz" being the largest to date. Impressively, they have launched ten projects in the last 19 months.
Private firm Samana Developers has ambitious plans, aiming to launch a total of 12 projects by the end of 2023. According to Imran Farooq, CEO of Samana Developers, the depreciation of the US dollar by 3.3 percent in H1 2023 has made Dubai's real estate more affordable for buyers from European countries, as their currencies have gained value against the dollar.
Azizi Developments, another major private developer, is set to launch a Venetian-inspired waterfront project in Dubai South. They are also constructing the UAE's second-tallest tower on Sheikh Zayed Road.
International players have also entered the market. Mered, a global real estate developer, chose Dubai as its home for designing and developing exclusive destinations. Additionally, Britain's LEOs Development and Switzerland's Fortimo have ventured into the UAE market in the past year.
Fintan Flannelly, head of developer sales at Allsopp & Allsopp, noted that the entry of international developers is increasing supply in the property market, targeting both local and foreign buyers.
Multiple factors contribute to this boom, including innovative off-plan solutions with flexible payment plans, strong confidence in Dubai's project delivery due to robust government regulations, and the emergence of branded residences adding a touch of luxury and desirability.
Lewis Allsopp, CEO of Allsopp & Allsopp Group, highlighted the urgency to expedite projects, especially in high-demand areas like Business Bay and Jumeirah Village Circle, to match Dubai's constant demand. He noted that nearly 100,000 residents have moved in over the past year, necessitating an additional 33,000 homes by the end of 2023.
The robust demand for off-plan projects primarily stems from investors seeking new opportunities. However, residents are also increasingly becoming buyers of off-plan units to secure their own homes amid rising rental costs.
New project launches and off-plan property sales have driven a surge in transaction activity. In August, a total of 7,085 off-plan Oqood transactions were registered, marking a remarkable 35 percent month-on-month increase and a 60.6 percent yearly increase, according to Property Monitor. Oqood, meaning 'contracts' in Arabic, encompasses all contracts between off-plan property developers and buyers.
Zhann Jochinke, director of marketing intelligence and research at Cavendish Maxwell, cautioned that while speculative activity in off-plan resale is growing, it carries inherent risks. He emphasized that bull markets do not last forever, and flipping off-plan properties can be a risky endeavor.
In conclusion, Dubai's real estate market is experiencing a resurgence of remarkable proportions, driven by a combination of factors and attracting both local and international investors. The future of the Dubai property landscape looks brighter than ever, setting the stage for continued growth and prosperity.