Incredible Survival: Climber's Near-2000-Foot Fall on Mount Taranaki, New Zealand
Daring Descent Turns Miraculous Escape as Climber Defies the Odds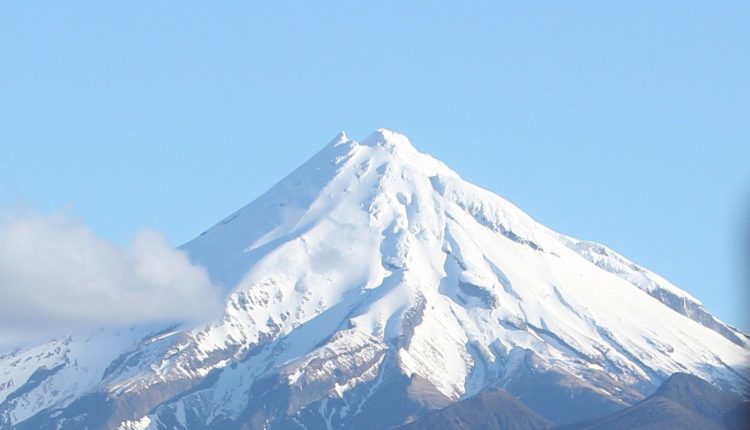 Mount Taranaki, New Zealand – In a heart-pounding incident high on Mount Taranaki, a climber experienced a miraculous escape after a harrowing fall of nearly 2,000 feet down the imposing mountain's slopes.
The startling incident unfolded last Saturday, as the climber was part of an intrepid group making their way towards the summit of Mount Taranaki, a majestic peak that soars to 8,261 feet above sea level on New Zealand's North Island.
The episode occurred around noon, local time, when the climber lost his footing and began a perilous descent down the steep slopes, gradually disappearing from view. Swiftly responding to the emergency, another climber from the group made a daring descent to reach the fallen comrade, assisted by a member of the elite Taranaki Alpine Rescue team.
Upon finally reaching the fallen climber, they were astonished to find him relatively unscathed, considering the sheer severity of the fall. The climber had, astonishingly, managed to lose his ice axe and crampons during the descent. However, it was the unexpected kindness of recent spring weather, softening the snow on the mountain, that ultimately cushioned his fall and averted what could have been a tragic outcome.
New Zealand Police, in highlighting the climber's extraordinary stroke of luck in surviving this ordeal, underscored the pivotal role played by the softened snow in breaking his fall. Notably, a spokesperson from Taranaki Alpine Rescue refrained from divulging further details regarding the rescue operation.
In the wake of this heart-stopping incident, authorities have issued renewed safety advisories for climbers venturing into the region's challenging terrain. These vital recommendations encompass the necessity of carrying a distress beacon, diligently notifying family members of planned routes, and staying well-informed about the prevailing safety guidelines and weather conditions.
Climbing Mount Taranaki is an endeavor that demands an amalgamation of experience, knowledge, and the use of properly fitted, appropriate equipment. Neglecting any of these essential factors can lead to vastly different outcomes, as exemplified by this astonishing incident. It serves as a stark reminder of the inherent dangers of scaling this iconic peak.
It's worth noting that, in a tragic event from May 2021, two seasoned climbers tragically lost their lives on the same mountain, falling approximately 1,000 feet from their last known location. A local Coroner, Ian Telford, determined that the climbers had succumbed to injuries sustained in an accidental fall. The Mountain Safety Council's report highlighted the challenging conditions prevailing at the time, marked by darkness, snow, and ice. The assessment underscored the inadequate preparation of the climbers for the formidable challenges posed by these conditions, as they had treated the climb as a mere day walk rather than a full-fledged mountaineering expedition.