Iraq Wedding Party Fire Claims Over 100 Lives in Tragic Incident
Devastating Blaze Engulfs Celebratory Event, Leaving Scores Dead and Injured in Nineveh Province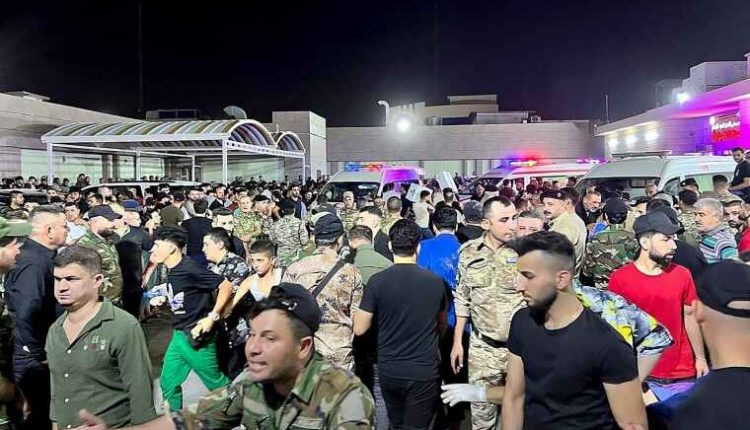 In a devastating incident that unfolded in Iraq's Nineveh province, a wedding party turned into a horrifying inferno, resulting in the loss of over 100 lives and leaving approximately 150 people injured. The heart-wrenching scene saw civil defense teams working tirelessly through the night to search for survivors amidst the charred remains of the building.
According to Nineveh Deputy Governor Hassan al-Allaq, the confirmed death toll stands at 113, while state media reports at least 100 fatalities and 150 injured individuals.
The catastrophe unfolded in a large events hall in the northeastern region, ignited by fireworks during the celebration, according to local civil defense authorities as reported by state media.
Eyewitnesses on the scene recounted the terrifying experience. Imad Yohana, aged 34, stated, "We saw the fire pulsating, coming out of the hall. Those who managed got out and those who didn't got stuck. Even those who made their way out were broken."
Footage from a Reuters correspondent showcased firefighters navigating the charred wreckage, their efforts illuminated by beams of light, as they grappled with the aftermath of the blaze.
Preliminary information suggests that the building's construction materials were highly flammable, contributing to its rapid collapse, according to state media sources.
In response to the disaster, ambulances and medical teams were dispatched by both federal Iraqi authorities and Iraq's semi-autonomous Kurdistan region.
Eyewitnesses reported that the fire broke out around 10:45 p.m. local time (1945 GMT) when the venue was filled with hundreds of attendees.
This tragic incident has sent shockwaves across Iraq, prompting the nation to grieve the loss of so many lives. It also underscores the vital importance of stringent safety measures at public gatherings and events. Investigations into the fire's cause are anticipated to prevent such a devastating tragedy from happening again.