Russian Missile Hits Memorial, 51 Lives Lost
Cafe and Grocery Store Struck in Kharkiv Region Tragedy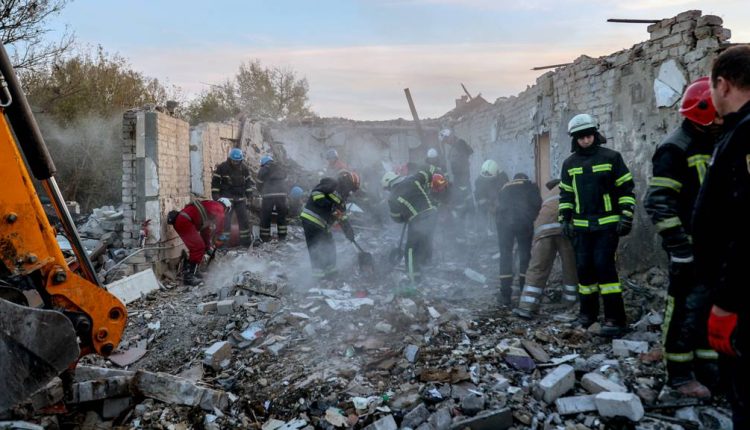 In a devastating turn of events, a Russian missile wreaked havoc in a village in northeastern Ukraine, targeting a cafe and grocery store during a memorial service and resulting in the tragic loss of at least 51 lives. The strike occurred in Hroza village, situated in the Kupiansk district of the Kharkiv region.
The lethal incident unfolded early in the afternoon, reducing the cafe and shop to rubble. According to regional governor Oleh Synehubov, a significant number of civilians were present at the site when the missile struck, amplifying the scale of the catastrophe.
Heart-wrenching images captured by officials depict dazed rescue workers navigating through smoldering debris, with bodies strewn amidst concrete slabs and twisted metal. The village of approximately 330 people had gathered for a memorial service in the targeted cafe, where residents were also sitting down to a meal, as revealed by Interior Minister Ihor Klymenko.
Klymenko conveyed the grim reality, stating, "From every family, from every household, there were people present at this commemoration. This is a terrible tragedy," in an interview with Ukrainian television.
This missile attack stands as the deadliest in the Kharkiv region since Russia's invasion over 19 months ago, marking one of the most significant civilian death tolls in a single Russian strike since the commencement of the war.
Ukrainian authorities swiftly condemned the attack, with Klymenko sharing preliminary information suggesting the use of an Iskander ballistic missile. He emphasized the targeted nature of the strike and revealed that Ukrainian security services had initiated an investigation into the matter.
Defence Minister Rustem Umerov denounced the act as a heinous crime, accusing terrorists of intentionally carrying out the attack during lunchtime to maximize casualties. Umerov asserted, "There were no military targets there. This is a heinous crime intended to scare Ukrainians."
President Volodymyr Zelenskiy, who was engaged in a summit with European leaders in Spain at the time, called for an end to the "Russian terror." He expressed the urgent need to strengthen Ukraine's air defense and provide enhanced protection against such acts of terror.
The international community awaits Russia's response to the devastating events in Hroza, as Moscow has consistently denied deliberately targeting civilians. The ongoing conflict has witnessed numerous airstrikes, with Ukraine mounting a counteroffensive in the south and east, claiming gradual progress. However, the toll on civilian lives continues to escalate, casting a grim shadow over the region's future.