Gold Price in Pakistan Keeps Changing Due to Market Swings
Gold Price in Pakistan Shows Volatility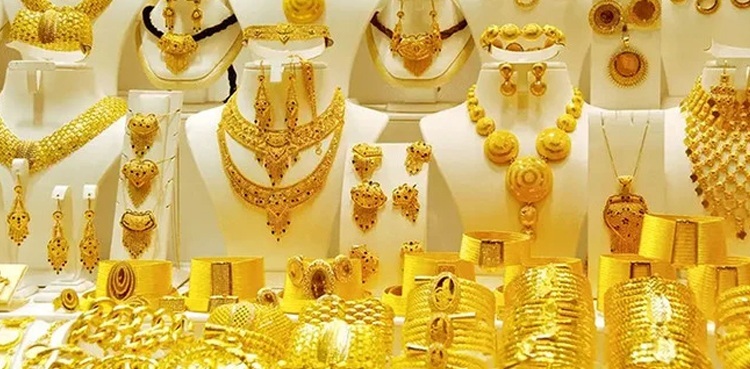 Gold prices in Pakistan continue to exhibit volatility, with fluctuations observed after a series of changes. The All-Pakistan Sarafa Gems and Jewellers Association (APSGJA) reports variations in the price of the precious metal, impacting both tola and gram rates.
Volatile Trends Persist: The price of 24-carat gold saw a decrease of Rs. 400 per tola, reaching Rs. 222,400. Similarly, the rate for 10 grams dropped by Rs. 343, closing at Rs. 190,672. The market has experienced a series of fluctuations in recent times, including both increases and decreases.
Week of Mixed Movements: Throughout the current week, the price of gold showcased mixed movements. After two consecutive drops, the price rebounded with two successive increases. This dynamic pattern has contributed to a volatile market atmosphere, leading to shifts in gold prices.
Recent Changes: In the present week, gold prices have decreased by Rs. 400 per tola. This follows a larger drop of Rs. 1,900 per tola in the preceding week. These fluctuations highlight the sensitivity of the market to various factors.
Global Impact: Internationally, the trend is mirrored as spot gold registered a 0.3 percent increase, reaching $1,917.73 per ounce by 1037 GMT. US gold futures also saw a 0.1 percent rise, closing at $1,950.20. The interconnectedness of the global gold market underscores the influence of various economic elements on its value.
Conclusion: The gold market in Pakistan remains in a state of flux, with prices experiencing volatile shifts. These variations reflect the complex interplay of domestic and international factors that contribute to the precious metal's valuation. Investors and observers are closely monitoring these developments as they navigate the intricacies of the gold market.