Gold Prices in Pakistan Decline for Second Consecutive Day
Gold Prices Experience a Two-Day Decline in Pakistan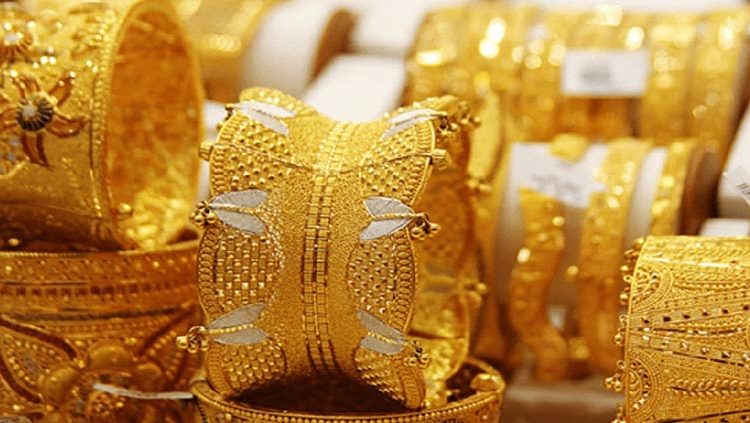 The price of gold in Pakistan experienced a downward trend for the second consecutive day on Wednesday, providing some relief to buyers. According to data released by the All-Pakistan Sarafa Gems and Jewellers Association (APSGJA), the price of 24-carat gold fell by Rs. 2,400 per tola, closing at Rs. 222,100. Similarly, the rate for 10 grams of gold decreased by Rs. 2,058, reaching Rs. 190,415.
Earlier, the price of gold had seen a notable surge, recording an increase of Rs. 2,500 per tola to surpass the significant milestone of Rs. 225,000 per tola. However, Tuesday witnessed a reversal in this upward trend, with the price of gold dropping by Rs. 800 per tola. The decline continued on Wednesday, leading to a cumulative reduction of Rs. 700 per tola during the course of the week.
The international market, on the other hand, saw a slight increase in spot gold prices, rising by 0.4 percent to reach $1,972.22 per ounce by 1145 GMT. The US gold futures also demonstrated a rise of 0.5 percent, settling at $1,973.60.
The fluctuations in gold prices can be influenced by various factors, including global economic conditions, geopolitical tensions, currency exchange rates, and demand-supply dynamics. Investors and consumers closely monitor these shifts to make informed decisions regarding their gold investments or purchases.
It is worth noting that gold remains a popular investment choice and a symbol of wealth and prosperity in many cultures, including Pakistan. The precious metal is often sought after during times of economic uncertainty or as a hedge against inflation. However, its prices are subject to market dynamics and can experience both upward and downward movements based on various factors affecting the global economy.