What are the High-Paying Professions in Pakistan?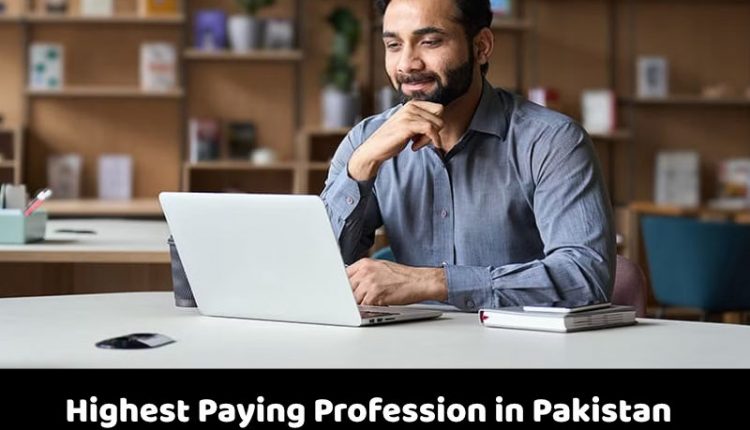 Pakistan, a country with a diverse economic structure, has been witnessing a surge in various professions that offer lucrative financial returns. The blend of traditional professions with the emerging ones, influenced by technological advancements, has reshaped the professional landscape of the country. Let's delve into an in-depth exploration of these high-paying professions in Pakistan.
Medical Professionals: Doctors & Surgeons
The medical field has always been at the forefront when it comes to high-paying jobs. Specialized surgeons, particularly in fields like neurosurgery and cardiology, can earn anywhere from PKR 1.5 million to 3 million per month. Leading hospitals like Shifa International, Aga Khan University Hospital, and Indus Hospital are the primary employers. Aspiring medical professionals typically require an MBBS degree followed by specialized training. Institutions like Aga Khan University, King Edward Medical University, and Allama Iqbal Medical College are renowned for medical education in Pakistan.
Information Technology (IT) Professionals
With the digital revolution, IT professionals, especially those skilled in AI, data science, and cybersecurity, are in high demand. They can earn between PKR 500,000 to 2 million monthly, depending on their expertise. Leading IT firms like Systems Limited, NetSol, and Teradata are always on the hunt for top talent. A Bachelor's or Master's degree in Computer Science or IT is typically required. National University of Sciences and Technology (NUST), Lahore University of Management Sciences (LUMS), and FAST-NU are premier institutions offering quality IT education.
Chartered Accountants
The corporate world of Pakistan places a high premium on Chartered Accountants. These professionals can expect earnings between PKR 300,000 to 1.5 million monthly. Firms like EY Ford Rhodes, KPMG Taseer Hadi & Co., and A.F. Ferguson & Co. are major employers. The pathway to this profession is through ACCA or CA certification, with institutions like the Institute of Chartered Accountants Pakistan (ICAP), SKANS, and PAC (Professionals' Academy of Commerce) offering the required education.
Aviation Professionals
The allure of the skies translates to hefty paychecks for commercial pilots, especially those flying international routes. They can earn between PKR 500,000 to 2 million per month. Pakistan International Airlines, Air Blue, and Serene Air are the leading employers. An aspiring pilot needs a Commercial Pilot License, and institutions like Pakistan International Airlines Training Centre and Lahore Flying Club offer the necessary training.
Banking & Finance Experts
The financial sector of Pakistan, with its intricate web of investments, banking, and asset management, offers lucrative positions. Investment bankers and financial analysts can earn between PKR 300,000 to 1.5 million monthly. Leading financial institutions like HBL Asset Management, MCB Arif Habib, and UBL Fund Managers are major employers. An MBA or a Master's in Finance from institutions like IBA Karachi, LUMS, or NUST Business School is typically required.
Oil & Gas Engineers
Pakistan's energy sector, especially the oil and gas segment, offers lucrative positions for engineers. Professionals in this field, especially those in exploration and drilling, can expect earnings between PKR 500,000 to 1.5 million per month. Oil & Gas Development Company and Pakistan Petroleum Limited are major employers. A degree in Petroleum Engineering from institutions like NED University of Engineering & Technology or University of Engineering & Technology Lahore is essential.
Legal Professionals
The legal arena, with its intricate cases and corporate dealings, offers substantial earnings for high-profile lawyers, especially in corporate law. They can earn anywhere from PKR 300,000 to 2 million monthly. Leading law firms include Mandviwalla & Zafar and Orr, Dignam & Co. An LLB degree followed by Bar-at-Law is the typical qualification, with University of the Punjab and Quaid-e-Azam Law College being premier institutions for legal studies.
Real Estate Developers
The urban expansion in cities like Karachi, Lahore, and Islamabad has made real estate a lucrative profession. Successful developers can earn in millions, depending on the projects. Leading real estate entities include Bahria Town and DHA. A degree in Business, Architecture, or Civil Engineering, from institutions like NUST or University of Engineering & Technology Lahore, can be beneficial.
Pharmacists
The pharmaceutical sector, with its blend of sales, research, and development, offers lucrative positions for pharmacists. They can earn between PKR 200,000 to 800,000 monthly. Leading pharmaceutical companies include Getz Pharma and Martin Dow. A Pharm. D or M.Phil in Pharmacy from institutions like University of Karachi or University of the Punjab is typically required.
Academics: University Professors & Researchers
The academic world, especially in renowned institutions, offers substantial earnings for senior professors and researchers. They can earn between PKR 300,000 to 1 million monthly. Premier institutions like University of the Punjab, Quaid-e-Azam University, and University of Karachi are major employers. A Ph.D. in the relevant field is a typical requirement.
The remaining professions, including automotive engineers, digital marketers, project managers, and entrepreneurs, also offer substantial earnings, with their respective educational institutions, qualifications, and major employers.
In conclusion, while these professions offer high earning potential, the actual income can vary based on various factors. However, with the right education, skills, and dedication, professionals in Pakistan can achieve substantial financial success.
(Note: The earnings mentioned are approximate and can vary based on various factors. For the most accurate and up-to-date information, it's recommended to refer to industry reports, surveys, and official statistics. Additionally, the mentioned institutions and companies are based on reputation and prominence as of the last update in 2021.)