U.S. Foreign Service Internship Program Now Accepting Applications!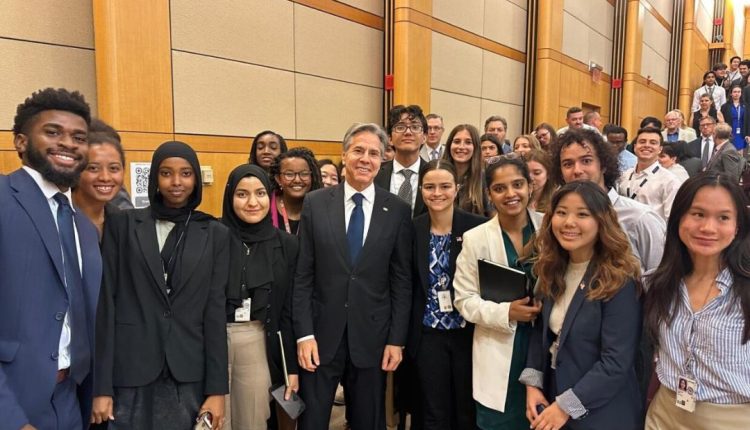 Are you an undergraduate student with dreams of starting a career in diplomacy and foreign affairs? The U.S. Foreign Service Internship Program (USFSIP) could be your stepping stone to experiencing U.S. diplomacy firsthand and exploring career opportunities at the Department of State. Initiated in 2014, the USFSIP is a merit- and needs-based program that offers two paid summer internships to undergraduate students, providing valuable training in writing, knowledge of diplomatic history, and hands-on experience in the daily operations of U.S. foreign policy.
Eligibility Criteria:
To be eligible for the USFSIP, applicants must meet the following criteria:
U.S. citizen at the time of application.
Demonstrated financial need via Student Aid Report (SAR) and/or Statement of Financial Need.
Cumulative GPA of 3.2 or above.
Rising sophomore or junior when applying.
Enrolled as a degree-seeking undergraduate student in an accredited academic institution at least half time.
Must continue undergraduate education through Spring 2025.
Available during program dates of June 16, 2024-August 23, 2024 (similar dates for 2025).
Able to obtain and maintain SECRET security clearance.
Remain in good academic standing (3.2 GPA or higher) for the duration of the program.
Program Structure:
The USFSIP is a two-year program requiring participation for two consecutive summers. The first summer (2024) includes three weeks of orientation and training in Washington, D.C., followed by seven weeks of work on policy desks in regional or functional bureaus at the U.S. Department of State. The second summer (2025) involves a ten-week assignment to a U.S. embassy or consulate overseas. During the intervening year, USFSIP interns must maintain at least a 3.2 GPA and take the Foreign Service Officer Test (FSOT) to gain a better understanding of the Foreign Service assessment process.
Application Process:
Applications must be submitted electronically through the "Gateway to State" system. The application process consists of four parts:
Applicant Profile: For new applicants to USAJOBS.
USFSIP Application: Including Statement of Interest, Statement of Financial Need, and one essay question.
Required Documents: Transcript(s) and resume built in USAJOBS Resume Builder.
Optional Documents: Student Aid Report (SAR).
Note: Incomplete applications cannot be considered. Technical questions about attaching required documents should be addressed to the Help Desk at 1-866-656-6830 or [email protected].
The U.S. Foreign Service Internship Program is a unique opportunity for undergraduate students to gain practical experience in the field of foreign affairs and diplomacy. It is not just an internship; it is a stepping stone towards a rewarding career in the U.S. Department of State. If you meet the eligibility criteria and are passionate about serving your country and making a difference in the world, apply for the USFSIP today!