Burj Khalifa Glows in Pakistan's Colors: Unity Shines on Independence Day
Burj Khalifa Lights Up in Green and White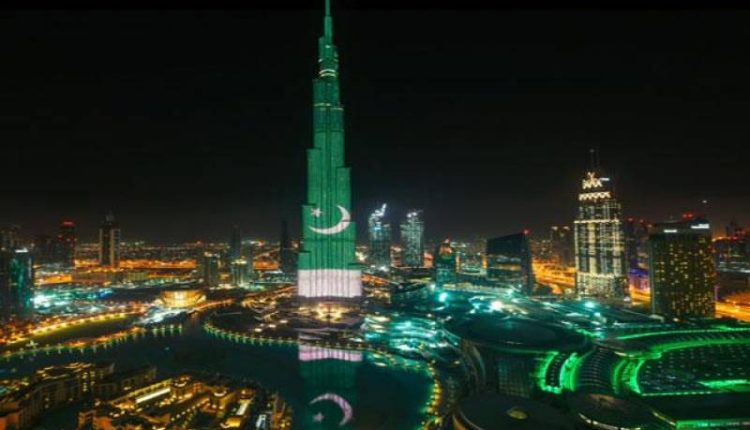 An exciting update has arrived for Pakistanis worldwide, as the iconic Burj Khalifa in Dubai has finally lit up in Pakistan's green and white colors on August 14th, Pakistan's 77th Independence Day. The vibrant display came after much anticipation and discussions on social media.
In the lead-up to this moment, there was disappointment and frustration among Pakistanis around the world when the Burj Khalifa didn't illuminate with the colors of the Pakistan flag at midnight. Traditionally, as part of the festivities for Pakistan's Independence Day, the Burj Khalifa shines in the lively green and white hues of the national flag.
#BurjKhalifa displaying Pakistan's Flag at the 76th Independence Day of Islamic Republic of #Pakistan 🇵🇰

Pakistan Zindabad 🇵🇰
Pakistan Paiandabad pic.twitter.com/on3Ad59Vvd

— Pakistan Strategic Forum (@ForumStrategic) August 14, 2023
The absence of this spectacle on the Burj Khalifa this year left many feeling disheartened. Social media platforms buzzed with disappointment and photos from previous years were shared, showcasing the stunning visual of the iconic building glowing in green and white.
Several expatriates gathered around the Burj Khalifa, hoping to witness the captivating sight of the building lit up in Pakistan's colors. However, their anticipation turned to disappointment as the iconic structure didn't celebrate Pakistan's Independence Day at that time. Despite the setback, they still chanted slogans of 'Pakistan Zindabad' (Long Live Pakistan) in a display of unity.
Twitter, Instagram, and other social media channels were flooded with posts expressing emotions of anger and sadness over the absence of the Pakistan flag's colors. Many users highlighted the importance of this gesture, not just as a symbolic sign of solidarity but also as a source of pride for the Pakistani diaspora around the globe.
Amid the disappointment, many Pakistanis found solace in the hope that this incident would underscore the significance of such expressions of unity and togetherness. The event sparked conversations about the value of acknowledging and commemorating national milestones, transcending geographical boundaries.
In conclusion, the delayed but resplendent illumination of the Burj Khalifa in Pakistan's colors serves as a reminder of the power of unity and celebration. Despite initial letdowns, the event rekindled conversations about shared pride and the importance of recognizing achievements on a global scale.