Four Pakistani Nationals Arrested for Drug Trafficking in Saudi Arabia
Saudi Authorities Take Action Against Alleged Drug Dealers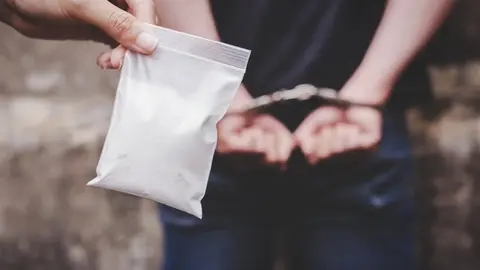 Saudi authorities have taken five individuals into custody, including four Pakistanis, on charges of drug trafficking. The arrests were the result of a joint operation involving Saudi intelligence agencies and the anti-narcotics department in Riyadh.
Acting on credible information about drug dealers, the Saudi authorities moved swiftly. The General Directorate of Narcotics Control confirmed that the four Pakistani detainees were found with 1.9 kilograms of methamphetamine, commonly known as ice. In a separate incident in Makkah, the fifth suspect was apprehended with 3.4 kilograms of hashish.
All five individuals have been transported to a police station for further legal proceedings.
In a parallel development, border guards in the Jazan province encountered drug traffickers during their regular patrols. Unfortunately, the suspects managed to escape, leaving behind a significant haul of 111 kilograms of illicit drugs. This event underscores the ongoing challenges faced by Saudi authorities in their battle against drug smuggling in various parts of the country.