Japan to Provide Grant Assistance for Five NGO Development Projects in Pakistan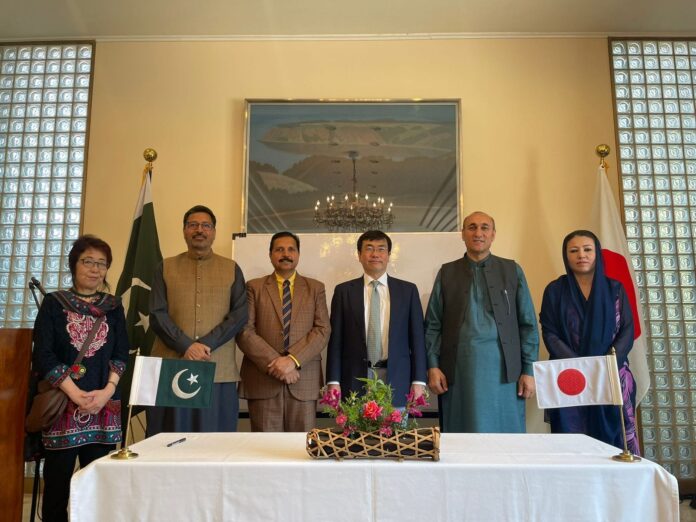 The Government of Japan has announced that it will provide grant assistance of up to $295,430 (equivalent to around Rs. 76.4 million) to five NGO development projects in Pakistan. The grant contracts were signed between ITO Takeshi, Charge d' Affaires ad interim of Japan to the Islamic Republic of Pakistan, and representatives of the five NGOs at the Embassy of Japan in Islamabad.
The five NGOs – Rural Aid Pakistan, Rumbur Development Welfare & Conservation Society, Hana Development Council, Saibaan Development Organization, and Dir Area Development Organization – will implement projects related to solar power irrigation systems, disaster prevention infrastructure, electricity facilities, link road paving, and micro hydropower stations in different districts of Pakistan.
Rural Aid Pakistan will receive a $65,617 grant to install solar power irrigation systems in four agricultural villages in District Narowal, Punjab, while Rumbur Development Welfare & Conservation Society will receive a $51,907 grant to construct check dams and protection walls for disaster prevention and an incinerator for hygienic environments in District Chitral, Khyber Pakhtunkhwa.
Hana Development Council will receive a $49,489 grant to install electricity facilities in seven villages in District Mandi Bahauddin, Punjab. Saibaan Development Organization will receive a $56,418 grant to pave one kilometer of link road in District Mansehra, Khyber Pakhtunkhwa. Meanwhile, Dir Area Development Organization will receive a $71,999 grant to construct a micro hydropower station in District Upper Dir, Khyber Pakhtunkhwa.
Takeshi congratulated the five organizations on winning the grants from the Government of Japan and expressed his hope that these development projects, in cooperation with local communities, will have a positive impact on uplifting the living standards of Pakistani people at the grassroots level.
Japan's grant assistance is expected to provide significant support to the social well-being of Pakistanis at the grassroots level and promote the sustainable development of the country.