Jurnalist Saleem Safi Presents Latest Book "Aur Tabdeeli Galay Par Gayi" to Prime Minister Shehbaz Sharif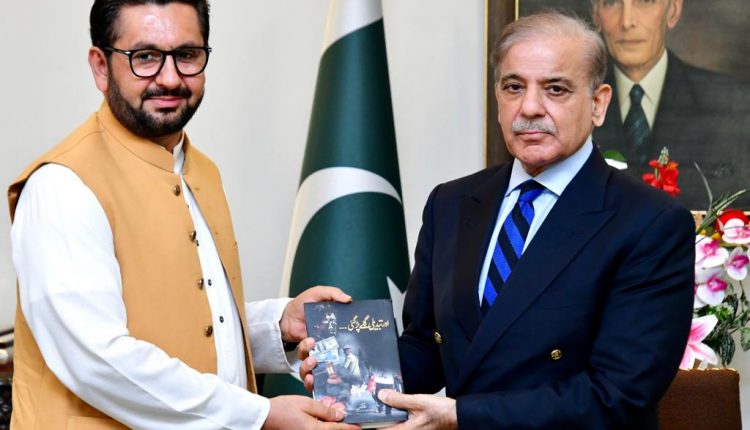 In a momentous occasion, senior journalist Saleem Safi had the esteemed privilege of presenting his latest book, titled "Aur Tabdeeli Galay Par Gayi" (And Change Embraced Us), to Prime Minister Muhammad Shehbaz Sharif. This engaging literary work delves deep into the intricate social and political changes that have shaped the landscape of Pakistan. Saleem Safi, widely recognized for his insightful analysis and thought-provoking commentary, has cemented his position as a highly respected journalist and author.
The presentation of "Aur Tabdeeli Galay Par Gayi" to Prime Minister Shehbaz Sharif underscores the significance and relevance of the book within the current political landscape. It sheds light on crucial aspects of Pakistan's societal fabric and offers a critical analysis of the ever-evolving dynamics within the nation. The event serves as a powerful testament to the role of intellectuals and journalists in shaping public discourse and engaging with policymakers.
The interaction between Saleem Safi and Prime Minister Shehbaz Sharif symbolizes the exchange of ideas and the invaluable contribution of intellectuals to the national dialogue. "Aur Tabdeeli Galay Par Gayi" is poised to reach a broader audience, stimulating meaningful conversations and deepening the collective understanding of the societal and political changes unfolding in Pakistan. As readers delve into the pages of this enlightening book, they are invited to reflect upon the challenges and opportunities that lie ahead for the nation.
The presentation ceremony further highlights the importance of fostering intellectual engagement and encouraging dialogue between thought leaders and policymakers. Saleem Safi's work acts as a catalyst for introspection, providing a platform for contemplation and analysis of Pakistan's socio-political landscape. It is expected that "Aur Tabdeeli Galay Par Gayi" will spark renewed discussions and ignite a desire for positive change among individuals from all walks of life.
Prime Minister Shehbaz Sharif's acceptance of the book demonstrates his commitment to engaging with intellectual voices and promoting informed discourse on matters of national importance. The event serves as a testament to the enduring influence of literature and the power of ideas to shape the course of a nation's destiny.
As "Aur Tabdeeli Galay Par Gayi" takes its rightful place on bookshelves across the country, it promises to make a lasting impact on readers, challenging their perceptions and enriching their understanding of the societal transformations underway in Pakistan. The book stands as a testament to the invaluable role of journalists and intellectuals in documenting the winds of change and guiding the nation towards a brighter future.