Pakistan Army Authorized for Nationwide Deployment During Muharram to Maintain Peace and Order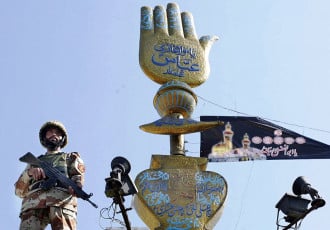 In a bid to ensure a peaceful and orderly observance of the sacred month of Muharram, the Ministry of Interior has taken a significant step by authorizing the deployment of the Pakistan Army across the entire country. The decision, made under Article 245 of the constitution, comes as a response to requests from all five provinces – Sindh, Balochistan, Punjab, Khyber Pakhtunkhwa (KP), and Gilgit-Baltistan (GB), along with the government of Azad Jammu and Kashmir (AJK). These regional authorities have sought assistance in maintaining law and order during the religious observance of Muharram.
The deployment of the Pakistan Army during Muharram is a crucial measure taken by the government to ensure the safety and security of the public during this sacred month, which holds immense religious significance for Muslims worldwide. The army units, already stationed in Sindh, Balochistan, Punjab, and KP, will extend their presence to other regions of the country as well, following the requests made by the respective provincial and regional governments.
However, it is essential to note that the final approval for this deployment rests with the Army's General Headquarters (GHQ). The GHQ will assess and carefully determine the appropriate distribution of the army units across different areas to effectively manage and address any potential security challenges that may arise during Muharram gatherings and processions.
An official notification has been issued to formalize the deployment, ensuring that all provinces and regions are informed about the government's proactive measures to maintain peace and tranquility during this religious period. By deploying the Pakistan Army during Muharram, the government is demonstrating its commitment to safeguarding the well-being of citizens and preserving the sanctity of religious events.
Muharram is a time of deep significance for Muslims, as it marks the beginning of the Islamic New Year and includes observances such as Ashura, which commemorates the martyrdom of Imam Hussain (RA). The emotional and spiritual intensity of Muharram gatherings can sometimes lead to heightened security concerns, necessitating the presence of security forces to ensure that events unfold peacefully and without any untoward incidents.
In recent years, authorities in Pakistan have taken proactive measures to enhance security during Muharram, given its historical context and the potential for large gatherings and processions. By authorizing the deployment of the Pakistan Army, the government aims to create a secure environment that allows people to participate in religious rituals and gatherings with a sense of safety and reassurance.
The nation remains vigilant and appreciative of the efforts made by law enforcement agencies and the armed forces to maintain law and order during religious observances like Muharram. The deployment of the Pakistan Army is viewed as a proactive measure that reflects the government's commitment to upholding peace, harmony, and religious freedom throughout the country. With the support of the military, the citizens of Pakistan can partake in Muharram's spiritual significance while having confidence in their safety and security.