Skardu Welcomes Its First Dubai Flight on Independence Day
Skardu's First International Flight from Dubai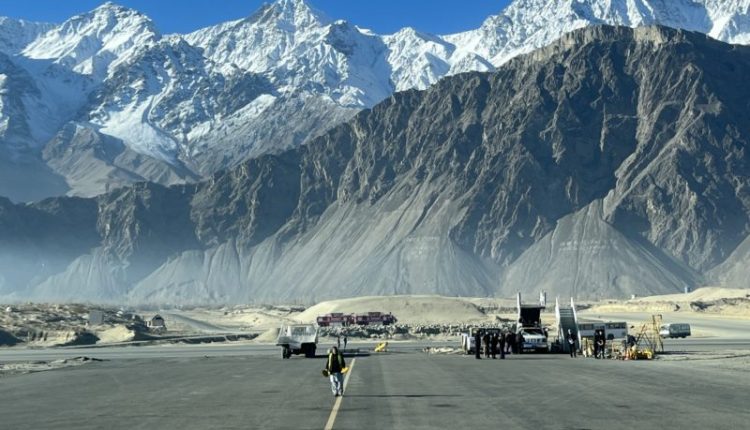 Pakistan, Skardu: Exciting news awaits as Skardu, a picturesque haven in Pakistan, prepares to welcome its inaugural international flight from Dubai on the momentous occasion of Pakistan's Independence Day, 14 August. Mohyuddin Ahmed Wani, Gilgit-Baltistan's Chief Secretary, has shared this eagerly anticipated announcement.
Skardu: An Emerging Hub
Skardu Airport takes center stage, being the sole airport in the northern region of Pakistan equipped to handle larger aircraft. Unlike the runways at Gilgit and Chitral airports, which fall short for long-haul flights, Skardu Airport is poised to embrace international connectivity.
A Long-Awaited Milestone
The journey towards international acclaim for Skardu Airport was set in motion by former Prime Minister Imran Khan in December 2021 when he bestowed the 'international' status upon it. However, this potential faced a hurdle – the absence of a proper re-fueling facility for international flights.
Addressing this vital need, authorities have successfully resolved the issue. The eagerly awaited re-fueling facility is scheduled for inauguration on 11 August, marking a crucial step toward realizing Skardu Airport's global potential.
Opening Pathways: Skardu's Rising Profile
The recent success of 12 Airbus A320 flights connecting Skardu with major cities in Pakistan underscores the region's burgeoning tourism. This uptick in connectivity signifies Skardu's emergence as a sought-after destination for travelers.
Clearing the Air: Polio Vaccination Clarification
In a separate development, the Civil Aviation Authority (CAA) has provided clarity concerning polio vaccination cards for passengers traveling to and from Skardu. Notably, such cards are not a requirement.
The CAA has issued a warning against falling prey to fraudulent online offers promising these cards, emphasizing that no such mandate exists. Instead, passengers are encouraged to seek guidance from airlines regarding health policies in their intended travel destinations, particularly concerning polio vaccinations.
In Conclusion
As Skardu prepares for a historic moment with its first international flight, the region embraces an era of expanded possibilities. The strides taken toward international connectivity serve as a beacon of progress and promise for the future.