Fully Funded Atlas Corps Fellowship Program 2024 in USA
Atlas Corps Fellowship Program 2024 in USA: Fully Funded Opportunity for International Change Leaders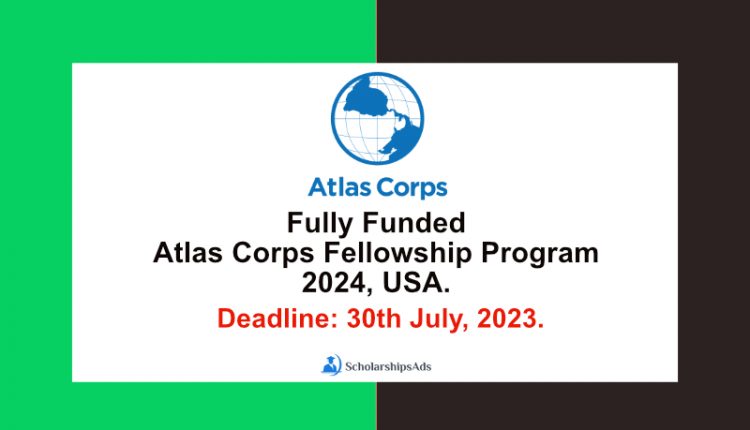 The highly sought-after Atlas Corps Fellowship Program in the USA is now accepting applications, offering young international candidates a fully funded opportunity to make a lasting impact on critical social issues worldwide. With a duration of 12 to 18 months, the fellowship aims to promote the mission and vision of Atlas Corps while fostering international peace and prosperity. Participants will be exposed to diverse social issues, equipping them with the skills and knowledge needed to drive positive change in their communities and beyond. The fellowship encompasses a wide range of focus areas, including Business Development, Data Analysis, Engineering, and Marketing, and combines physical and virtual components.
Established in 2006, Atlas Corps is a distinguished not-for-profit organization committed to addressing global challenges and fostering collaboration among passionate individuals and organizations. With a vast network of like-minded change leaders, Atlas Corps facilitates the exchange of ideas, resources, and expertise, providing a powerful platform for global engagement. By bringing together individuals and organizations, Atlas Corps encourages innovation, problem-solving, and the development of practical strategies for lasting positive change.
Fellowship Areas of Focus:
The Atlas Corps Fellowship Program in the USA offers remarkable opportunities in various professional domains, enabling participants to make a meaningful difference in society:
Communications and Marketing: Engaging tasks related to promoting and advertising initiatives.
Journalism and Media: Focusing on news reporting and media-related activities.
Event Planning: Managing and organizing events to achieve impactful outcomes.
Consulting: Providing expert advice and guidance to tackle critical challenges.
Partnership Building and Business Development: Encouraging collaborations and fostering business growth.
Program Management and Project Management: Overseeing and coordinating projects and programs effectively.
Finance and Accounting: Dealing with financial matters and accounting to ensure sustainable initiatives.
Fundraising and Proposal Writing: Raising funds and preparing project proposals for impactful ventures.
Technology and Engineering: Working on technology and engineering-related tasks for innovative solutions.
Monitoring, Evaluation, and Data Analysis: Assessing performance and analyzing data to measure impact.
Operations and Human Resources: Efficiently managing day-to-day operations and human resource activities.
Fellowship Benefits:
The Atlas Corps Fellowship in the USA offers a wide array of invaluable benefits to its selected fellows, providing the necessary support and resources to engage in meaningful social change initiatives. Here are some key benefits offered by this fully funded fellowship:
Comprehensive Health Insurance: Fellows receive extensive health insurance coverage during the program.
Travel Coverage: The fellowship covers both international and domestic travel expenses for the fellows.
Visa Expenses: All visa-related costs for the fellows are covered by the host organization in collaboration with Atlas Corps.
Communication Allowance: Fellows receive an allowance for a SIM card and phone plan, ensuring effective communication and connectivity.
Placement Costs: Atlas Corps bears the expenses related to fellows' placements at their host companies.
Monthly Stipend: Participants receive a monthly stipend to support their financial needs, allowing them to focus on their work, professional growth, and community involvement without significant financial strain.
Cultural Exposure: Fellows have the opportunity to visit the United States of America, experiencing its culture firsthand, free of charge.
Leadership and Networking: The fellowship provides a platform for fellows to develop leadership skills and enhance their networking abilities.
Global Community: By participating in the Atlas Corps fellowship, individuals become part of a global community of change leaders, facilitating collaboration and the exchange of ideas.
Eligibility Criteria:
The Atlas Corps Fellowship welcomes international students, excluding American citizens, to apply for this prestigious opportunity. Applicants must meet the following eligibility criteria:
American citizens are not eligible to apply.
Individuals from any country can submit their applications.
The age range for applicants is between 23 and 35 years; they must fall within this age bracket.
Proficiency in English (both written and verbal) at an advanced level is required.
Applicants must possess a bachelor's degree or an equivalent qualification.
Additionally, a minimum of two years of relevant experience in social work is a mandatory requirement.
Application Procedure:
To apply for the Atlas Corps Fellowship, interested candidates should follow these steps:
Click on the "Apply Now" button to initiate the application process.
Gather all the required documents before beginning the application.
Complete a basic test as part of the application process, and the results will determine the progression.
Applicants do not need to select a host organization, as Atlas Corps will automatically handle the assignment.
Ensure the recommender or referee submits the recommendation letter online.
Application Deadline:
The deadline for submitting applications is July 30, 2023. Candidates are advised to complete the application process promptly and take the basic test as part of their submission.
Conclusion:
The Atlas Corps Fellowship Program in the USA offers a fully funded opportunity for international change leaders to make a positive impact on critical social issues worldwide. With its diverse focus areas and comprehensive benefits, the fellowship equips fellows with the tools they need to drive meaningful change in their communities and beyond. Interested candidates should apply before the deadline expires to seize this transformative opportunity. Don't miss your chance to be a part of the Atlas Corps global community and contribute to lasting social impact. Apply now and embark on a journey of transformative change with Atlas Corps!