Fully Funded Hong Kong PhD Fellowship Scheme 2024-25: Your Gateway to Excellence in China's Leading Universities
A Guide to Applying for the Hong Kong PhD Fellowship Scheme 2024-25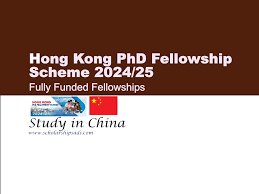 Hong Kong, September 13, 2023 – The Research Grants Council (RGC) of Hong Kong, since its establishment in 2009, has been dedicated to fostering global academic talent through the Hong Kong PhD Fellowship Scheme (HKPFS). The 2024-25 iteration of this prestigious program aims to attract the world's brightest students to embark on a remarkable doctoral journey within the dynamic landscape of Hong Kong's universities.
Hong Kong: Where Excellence Meets Opportunity
Nestled at the heart of Asia, Hong Kong is renowned for its vibrant creativity and entrepreneurial spirit. This cosmopolitan metropolis serves as a global nexus for diverse interactions, offering both security and a rich tapestry of cultures. Within its borders, a thriving community thrives, valuing excellence and a high quality of life.
Hong Kong's educational framework is uniquely designed to cultivate a culture of continuous learning and self-driven research. This approach empowers a highly motivated and entrepreneurial workforce. Moreover, the city enthusiastically welcomes professionals from around the world, creating an environment that is genuinely global in scope.
A Multifaceted Educational Landscape
Hong Kong's universities, each with its own strengths, offer a diverse array of disciplines that contribute to its transformation into a leading center for higher education. This nurturing environment molds exceptional talent on both regional and global scales.
Program Details: Fully Funded PhD Fellowship in China
– Degree Level: PhD Fellowship Scheme 2024-25, Study in China
– Available Subjects: All subjects are eligible for study under this scholarship program.
Eligibility Criteria: Pursuing Excellence Without Boundaries
Candidates seeking admission as new full-time PhD students in eight prestigious universities in Hong Kong are eligible to apply, regardless of their country of origin, prior work experience, or ethnic background. These universities are:
1. City University of Hong Kong
2. Hong Kong Baptist University
3. Lingnan University
4. The Chinese University of Hong Kong
5. The Education University of Hong Kong
6. The Hong Kong Polytechnic University
7. The Hong Kong University of Science and Technology
8. The University of Hong Kong
Applicants must showcase outstanding qualities in academic performance, research potential, communication, interpersonal skills, and leadership abilities.
Application Procedure: Your Path to Excellence
Eligible candidates are required to initiate their application process online through the Hong Kong PhD Fellowship Scheme Electronic System (HKPFSES) to obtain an HKPFS Reference Number. The deadline for this initial application is December 1, 2023, at Hong Kong Time 12:00:00.
Applicants have the opportunity to choose up to two programs or departments at one or two universities for their PhD studies under HKPFS 2024-25. It is crucial to adhere to the admission requirements of their selected universities and programs.
Given that the application deadlines for some universities may closely follow the initial application, candidates are encouraged to submit their initial applications at the earliest convenience to ensure ample time for subsequent university applications.
The Hong Kong PhD Fellowship Scheme 2024-25 represents an extraordinary opportunity for students worldwide to pursue their academic and research aspirations in one of Asia's most dynamic educational hubs. Don't miss the chance to be part of Hong Kong's culture of excellence and innovation.
For further information Click Here