International Mathematical Union Announces Fully Funded Abel Visiting Scholar Program 2024 in Norway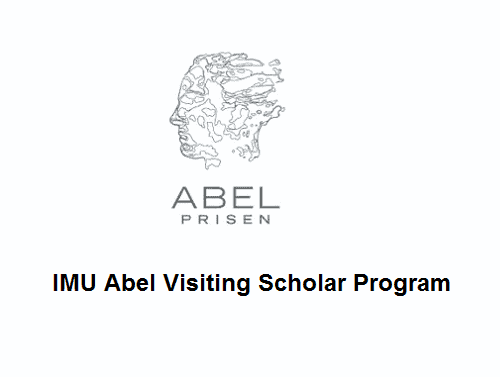 International Mathematical Union Announces Fully Funded Abel Visiting Scholar Program 2024 in Norway
OSLO, NORWAY – The International Mathematical Union (IMU) has unveiled the Abel Visiting Scholar Program 2024, a fully funded initiative aimed at fostering collaboration between mathematicians from developing countries and their international counterparts. The program is open to international students and offers an enriching opportunity for post-doctoral mathematicians in the early stages of their careers.
Program Overview
The Abel Visiting Scholar Program is designed to facilitate one-month visits to an international research collaborator. If the visit extends beyond one month, the applicant must provide proof of financial support from the host institution for additional living expenses.
This initiative is tailored for young mathematicians, providing them with a valuable chance to embark on a research sabbatical. This complements their teaching and other academic responsibilities, allowing them to sustain a viable research program.
Funded entirely by the Abel Prize in mathematics, the program is managed by the Commission for Developing Countries of the IMU. Typically, up to three grants are offered per year.
Scholarship Benefits
The grant, amounting to up to 4,400 EUR (5,000 Dollars), covers:
Travel Costs: Economy class airfare and surface transport.
Visa Fees and Travel Insurance Charges: Covered as part of the grant.
Basic Living Cost: Daily allowance based on the living cost of the visiting country/city for the first month.
Accommodation Cost: Hotel or rented flat, with specific conditions.
Special Considerations: Costs related to COVID-19 tests, quarantines, and vaccines can be covered upon request.
Eligibility Criteria
Applicants must:
Hold a PhD in Mathematics.
Be based in a developing country at the time of application.
Hold a position in a university/research institution.
Be under 35 years of age (with certain exceptions).
Not yet be of full professorial rank.
Applications from women mathematicians are strongly encouraged.
Application Procedure
Applications must be received at least four months before the desired starting date, with specific deadlines for different visit periods. The selection committee will review applications and announce results on the Abel Visiting Scholar Recipients page.
A Commitment to Global Collaboration
The Abel Visiting Scholar Program reflects a commitment to global collaboration and the advancement of mathematics in developing countries. By providing opportunities for young mathematicians to engage with international peers, the program contributes to the growth and diversification of the mathematical community.
The deadline for applications is December 31, 2023, and interested candidates can join the program's WhatsApp group or follow updates on Facebook and Twitter.
For more information and to apply, visit the official website of the International Mathematical Union.