Cristiano Ronaldo's Historic Arrival in Tehran Ignites Fan Frenzy
Diplomatic Breakthrough: Ronaldo's Visit Marks a New Era in Iran-Saudi Relations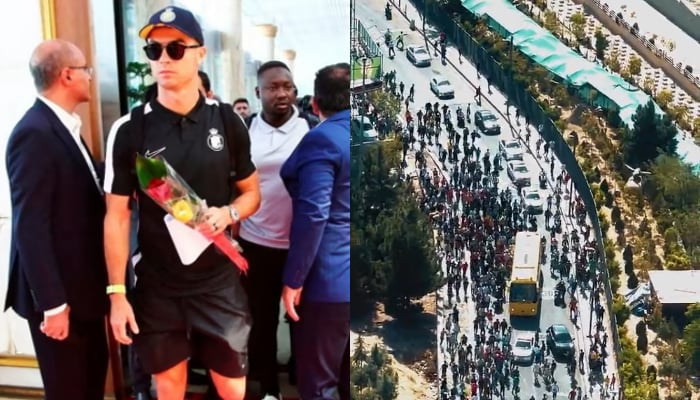 Tehran, Iran – The city of Tehran came alive with fervor and excitement as Cristiano Ronaldo and his Al Nassr teammates arrived for their highly anticipated match against Persepolis in the Asian Champions League. The significance of this clash goes beyond the football pitch, as it marks a significant diplomatic milestone in the region.
China's diplomatic mediation in March resulted in a historic deal that paved the way for sports events between Iran and Saudi Arabia, ending years of matches being held on neutral ground due to severed diplomatic ties. The arrival of the Portuguese superstar and his team symbolized a new era of sports diplomacy in the Middle East.
The enthusiasm of Iranian fans was palpable as they lined the streets to catch a glimpse of their footballing idol and the Al Nassr squad. The city of Tehran was adorned with posters featuring Ronaldo's image alongside the word "Welcome" written in Arabic, English, and Farsi. The multilingual signage underscored the anticipation and unity surrounding the upcoming match.
However, despite the electric atmosphere outside the stadium, the game itself unfolded behind closed doors at the iconic Azadi Stadium. This decision was made by the Asian Football Confederation (AFC) in response to a controversial online post made by Persepolis in 2021, ahead of a match against an Indian team.
To ensure the safety of Cristiano Ronaldo and his teammates, a specialized security unit was assigned the crucial task of preventing any direct contact between the passionate Iranian fans and the Saudi team players. The security measures reflected the immense responsibility and dedication to keeping the sporting event secure and incident-free.
The episode serves as a reminder of the remarkable power of sports in transcending political boundaries and fostering unity among nations. Despite diplomatic challenges that had kept these two footballing powerhouses apart for years, the presence of Cristiano Ronaldo in Tehran exemplified the ability of football to bring people together and bridge divides. It was a day when the love of the game transcended geopolitical tensions, leaving fans with unforgettable memories of a truly historic encounter.