How to Buy ICC World Cup 2023 Tickets: A Simple Guide
ICC ODI World Cup 2023: How to Book Your Tickets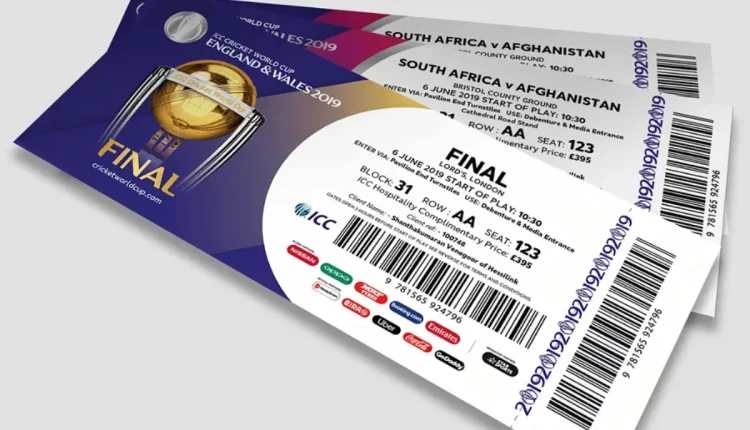 The excitement for the upcoming ICC ODI World Cup 2023 is building, and cricket fans are eager to secure their tickets. Although the official ticket details are yet to be released by the BCCI, ticket sales are expected to commence on August 10. To ensure you don't miss out on the action-packed matches and thrilling rivalries, it's crucial to be prepared and grab your tickets early.
Purchasing Process: Getting your hands on World Cup tickets requires a strategic approach. The popularity of the matches means that tickets can sell out rapidly. Frequent visits to the official ICC website might grant you early access to tickets, enhancing your chances of securing a spot in the stands.
Buying Tickets in India: For fans in India, ticket purchase options include platforms like BookMyShow, PayTM, and Insider. The anticipated official start date for reservations is August 10, when the BCCI is set to initiate the ticketing process for the ICC ODI World Cup 2023.
Ticket Costs: Ticket prices will vary based on factors such as the specific match, the stadium, and the ticket package you opt for. Expect a range of prices, from INR 500 to INR 10,000. It's important to note that possessing an actual ticket is essential for stadium entry, as emphasized by BCCI Secretary Jay Shah.
Step-by-Step Guide: To secure your World Cup tickets hassle-free, follow these straightforward steps:
Visit the official page dedicated to purchasing ICC ODI World Cup 2023 tickets.
Click on the provided ticket link to access match-specific details.
Select the particular game you wish to attend.
View available ticket options, along with their respective prices.
Make your ticket selections according to your preferences.
Add the chosen tickets to your virtual shopping cart.
Before making the payment, review all the provided information.
Complete the payment process to confirm your ticket reservation.
On the day of the match, ensure you have your physical tickets with you for entry.
Conclusion: As the countdown to the ICC ODI World Cup 2023 begins, securing your tickets early is crucial to be a part of this exhilarating cricketing spectacle. By following this user-friendly step-by-step guide, you can successfully navigate the ticket booking process and look forward to witnessing unforgettable moments on the field.
The hospitality boxes for the matches in Multan and Lahore will be available for sale and can be bought via a phone call at the PCB headquarters at 111 22 77 77.