Indian Mother's Joyful Response to a Possible Pakistan Win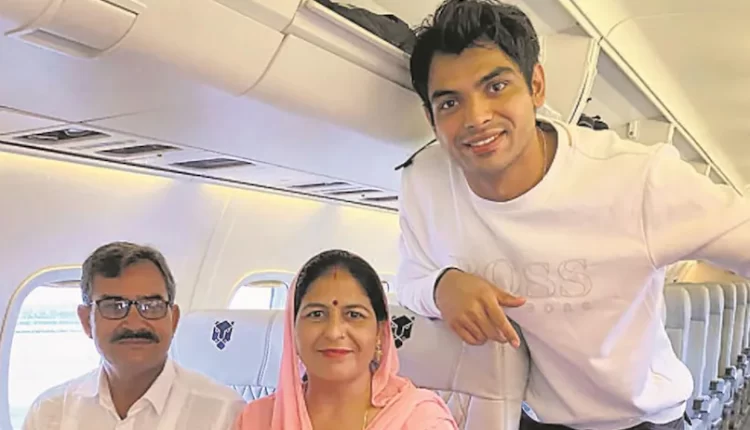 India's pride, Neeraj Chopra, has not only emerged as one of the most celebrated athletes of the nation but also as one of the most admired. He had to defeat Pakistan's Arshad Nadeem in the final round to secure the top position on the podium. Despite the historical India vs. Pakistan rivalry in sports, Neeraj expressed his affection for Arshad and shared his happiness over Arshad winning a silver medal. Additionally, Neeraj's mother, Saroj Devi, gave a remarkable answer to a journalist who inquired about her feelings on Neeraj defeating an athlete from Pakistan.
During a press conference, a journalist asked Saroj Devi about her feelings on her son defeating a Pakistani athlete. Her response won many hearts as she stated that the nationality of the athlete does not matter.
She said, "Look, everyone has come to compete in the field. Someone will surely win. So, it doesn't matter if the athlete is from Pakistan or Haryana. It is a moment of joy. Even if the Pakistani athlete had won, it would have been a great joy."
Neeraj has achieved a milestone in his career by winning every possible title. In most international events he participated in, Arshad was his competitor for the top position. However, Neeraj usually emerged victorious.
After the match, during a media interaction, Neeraj expressed his happiness that both India and Pakistan are performing well in javelin throw, a sport traditionally dominated by European countries.
He said, "I am glad that Arshad performed well. We talked and discussed how our countries are progressing. Previously, European athletes dominated, but now we have reached their level."
This story teaches us the importance of sportsmanship and respect for competitors, regardless of their nationality. Neeraj and his mother's responses reflect a mature and positive attitude that is essential for fostering goodwill and harmony in the world of sports.