Intriguing Wedding Tale: Firdous Ashiq's Remark at Shoaib's In-Laws' Home
Firdous Ashiq's Curious Comment: A Wedding Story at Shoaib's In-Laws' Place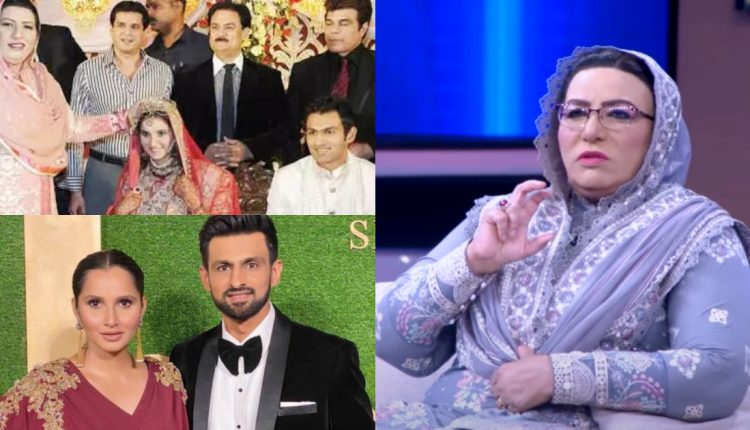 Former federal minister and spokesperson for the Pakistan People's Party (PPP), Firdous Ashiq Awan, has revealed details about a humorous incident involving cricketer Shoaib Malik during his wedding. She lifted the veil on the real story during a private media conversation.
Firdous Ashiq Awan shared the story during her appearance on GEO News' comedy show "Hansna Mana Hai." She mentioned that when Shoaib got married, he insisted that everyone should attend the baraat (wedding procession). However, since the bride was coming from India, and she was part of the family as well, they decided that she would bring the bride. In those days, Firdous was also an MNA, so she was told that she would be the one to place the crown on Shoaib's head.
Firdous Ashiq Awan stated, "When we reached the in-laws' house in Hyderabad, India, on the first day, I whispered in Shoaib's ear, 'You've got yourself into big trouble,' because I could see the situation there. Since it was a love marriage, both of them had compromised a lot. I realized that as long as the spirit of love is alive, everything will be fine."
However, on the wedding day, something unusual happened. Firdous mentioned, "When we started taking pictures with Shoaib and Sania, Shoaib's mother-in-law stopped the cameraman. Shoaib asked him, 'Why aren't you taking our pictures?' The cameraman replied, 'You see, we have outsourced your wedding. The vendor who provided the wedding now has the exclusive rights to take and release the pictures. No one else can take pictures or release them.'"
Firdous Ashiq Awan emphasized that this situation was astonishing to them because someone from the in-laws had actually sold the wedding rights, including photography, and no one else was allowed to take or release pictures.
In the end, they realized the delicacy of the matter and said, "When the cameraman releases the pictures, you can also have them." They received the pictures a bit late, and that's when Firdous whispered in Shoaib's ear that he had gotten himself into a big mess.
Please note that this is a translation of the provided text from Urdu to English. If you need further information or have specific questions, feel free to ask.